10 Futuristic Health Products That Should Be on Your Radar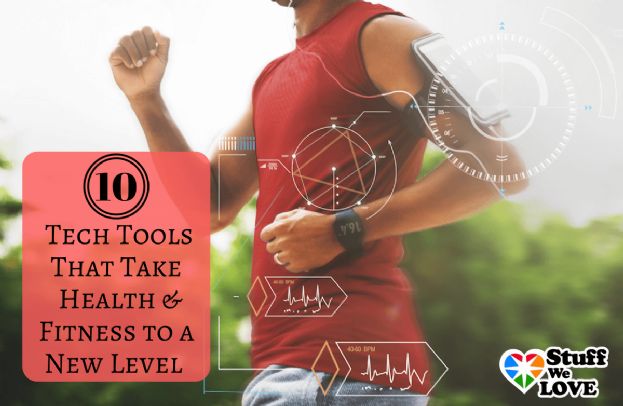 Now that Marty McFly's self-lacing shoes are finally a reality, one thing is clear: The future is here. Getting your hands on the latest technology, though, is equal parts risky and rewarding. After all, how many people actually need $720 shoes?

With new products hitting the market every day, it can be difficult to identify the ones that can actually help you with your daily health and fitness struggles. From a fork that will force a slow-food revolution at your table to a jump rope that ensures you'll never lose count of your skips ever again, these 10 products are sure to make you feel like you're living like the Jetsons.

1. Sleep Monitor (Beddit, $79.99)

Photo courtesy of Amazon.

Time to ditch your old alarm clock for good. The Beddit sleep monitor is a non-wearable sensor that you slip under your sheets. It monitors your sleep time, cycles and patterns, as well as your heart rate, any snoring and more. Connecting to your phone via Bluetooth, the monitor then sends a signal to your alarm to wake you at the most optimal hour. With sleep this good, you may never need coffee again.

2. Bluetooth-Enabled Smart Fork (HAPILABS, $66.35)


Photo courtesy of Amazon.

How many times have you realized that you had been eating too quickly only after your whole dinner had disappeared from your plate? Eating quickly not only causes most people to eat past the point of actually being full, but it is also associated with uncomfortable digestive issues. Cut the bad habit with this smart fork, which alerts you with vibrations and lights when it's time to slow down. Pair it with your smartphone to get a read out of your eating stats in real time.

3. Underwater MP3 Player (FINIS, $84.99)


Photo courtesy of Amazon.

Swim in silence no more. Hear your favorite playlist clear as a bell as you perfect your butterfly stroke with this waterproof MP3 player. Clip the device right on your goggles and play up to 60 hours of music.

4. Smart Socks (Sensoria Fitness, $199)

Photo courtesy of Amazon.

Feel like you're running too slow? Too fast? How's your gait? Get immediate feedback on your runs with these comfortable, moisture-wicking smart socks. The socks' sensors and anklet pair up with an app that guides your runs with real-time cues.

5. Smart Ring (Motiv, $199)

Photo courtesy of Motiv.

For some, activity trackers can be too clunky and obvious. If you would prefer a more subtle wearable that still has all the benefits of a bracelet or watch, try the Motiv ring. With a battery life of up to five days, you can leave the ring on 24/7 and let it record your activity, heart rate and sleep. Check your stats and keep your goals on track with the integrated Motiv app on your smartphone. Finally, tracking-meets-fashion has never been so cool.

6. Hybrid Modern Pursuit Smart Watch (Fossil, $155)


Photo courtesy of Amazon.

If you love the idea of a smart watch but hate the look, then a hybrid version could be the answer. Compatible with both Android and iOS operating systems, this sleek hybrid watch will track your steps and send you alerts about activity on your phone. Now you can step out (and count those steps) in style.

7. Smart Rope (Tangram Factory, starting at $79.99)


Photo courtesy of Amazon.

Track your fitness mid-air with this LED-embedded jump rope that displays your jump count as you go. The rope syncs with your smartphone to track your jumps, calorie burn, workout times and more. Compete with your friends for added fun.

8. Bicycle Smartphone Mount (TaoTronics, $15.99)


Photo courtesy of Amazon.

It's hard enough to reach your water bottle while biking, much less dig around for your phone. This phone mount holds your phone safely and securely right on your handlebars so you can view your route or explore new ones as you go. The mount is also guarded on all sides in case of an accidental fall and releases with the push of a button.

9. Mindfulness and Activity Tracker (Spire, $129.95)


Photo courtesy of Amazon.

With stressful jobs and increasingly busy schedules, the concept of mindfulness has worked its way into our lexicon over the course of the last few years. If you're someone who struggles with slowing down your breathing in moments where you feel out of control, this activity tracker can help. By alerting you when it's time to breathe, the tracker can help guide you toward more periods of focus, calm and productivity. You can also learn more about your stress patterns and view your periods of high stress by location, time and activity with daily and weekly reports from the tool's app integration. It also counts your steps, calories and activities. Just clip it on and go!

10. Body Composition Scanner and Monitor (Skulpt, $99)


Photo courtesy of Amazon.

Measure your muscle and fat composition with this full-body scanning device. With the Skulpt app, you can then read your personalized analysis and use that information to burn fat and build muscle strength where you are weakest, all while lessening the risk of injury.

Which of these tech toys would you use? Tell us in the comments.

We hope you love these products as much as we do! SparkPeople may collect a small percentage of revenue from the links on this page.




You will earn

5

SparkPoints

Like what you read? Learn more

about SparkPeople,

or

sign up

for your free account today!
Got a story idea? Give us a shout!