Relieve, Restore and Reset Your Back with These 10 Products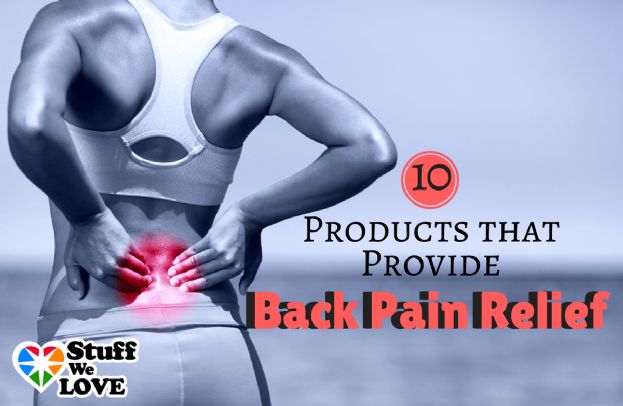 Sometimes simply going about the business of living life can lead to backaches and pains. According to +he Good Body, eight out of every 10 Americans will experience back pain at some point in their lives—a statistic that's probably not surprising considering all the times you lift, pull, stretch, twist, slouch, bend or otherwise contort your back to do everything from reaching for that cereal bowl in the morning to picking up the kids' toys at night before going to bed.

Luckily, if you suffer from aches and pains from your neck down to your tailbone, there are products available that can prevent back injuries from happening in the first place and other items designed to help soothe sore spines and muscles.

1. Acupressure Mat and Pillow Set (Nayoya, $39.97)



Photo courtesy of Amazon.

Find relief from everyday aches and pains with an acupressure mat and pillow. Tiny plastic "acupoints" push on your body's pressure points to simulate acupuncture–no needles required. These pressure points increase blood flow, help reduce inflammation and release endorphins along your neck and back. The mat and pillow set can be adapted for beginner, intermediate and advanced users.

2. Lower Back Stretcher (SOLIDBACK, $33.33)



Photo courtesy of Amazon.

Prevent and relieve neck and back pain by lying with your back draped over this wide, U-shaped product. Stretch out on the hard foam as it simultaneously digs in and loosens your lumbar muscles. Firm enough to support your weight, but with enough give to make it comfortable, this is one tool you'll return to again and again when you want relief from built-up tension or stress.

3. PurePulse TENS Electronic Pulse Massager (Pure Enrichment, $29.99)



Photo courtesy of Amazon.

Stimulate your muscles and lessen back pain with the help of a Transcutaneous Electrical Nerve Stimulation (TENS) handheld system. Attach the pads to the bothersome muscles and let the electrodes provide relief right where you need it most as they activate your body's natural pain blockers. Keep an eye on your session with the unit's LCD display, which shows treatment time and areas, pulse speed and massage settings. You can also use this tool on other painful areas—such as shoulders, feet, hands or other joints.

4. Inversion Table (Innova Health and Fitness, $95.57)



Photo courtesy of Amazon.

Medieval looks aside, an inversion table can be just the respite you need for your neck or back pain. The table can be adjusted to the proper angle for your specific pain to relieve pressure on your spine and elongate your joints. Foam rollers and soft-touch handlebars make inverting and returning to an upright position comfortable and easy.

5. Inflammation Cream (Penetrex, $34.95)


Photo courtesy of Amazon.

Greaseless, stainless and with a scent that disappears quickly, Penetrex cream relieves inflammation brought on by back pain, sciatica, arthritis and many other inflammation-related aches and pains. As one happy reviewer put it, "I am a 29-year-old man who truly has a high tolerance for pain, I'm not a complainer and I swear on EVERY possession I own I cried from the pain relief I received."

6. Memory Foam Back Cushion (Everlasting Comfort, $19.95)



Photo courtesy of Amazon.

Take your back support with you wherever you go—from commute to office chair—with this adjustable support pillow. Made with a memory foam that molds to your back and with an ergonomic design, the cushion can be placed anywhere you need relief—from your neck to your lower back.

7. Stabilizing Back Brace and Support Belt (BraceUp, starting at $23.99)


Photo courtesy of Amazon.

When you don't want to be kept away from everyday activities but you need back support, a wearable brace is a great option. This one by BraceUp is adjustable, breathable and comes in sizes S/M through XXL. Wear it loose or tight depending on the support you need for your daily activities.

8. Foam Roller (TriggerPoint Performance, starting at $26.74)



Photo courtesy of Amazon.

The stress and tension of daily life can show up along your neck or back, with little warning. Foam rollers are an excellent way to roll out your aches and pains, help your muscles recover from a hard workout and increase your flexibility. This roller also comes with access to an instructional video library on best practices so you can achieve the right results, right away.

9. Mini Exercise Ball (FitBALL, $9.99)



Photo courtesy of Amazon.

Strengthen your core to help relieve current injuries and keep new ones at bay with a mini exercise ball. Designed for use in conjunction with a wide range of activities—from yoga to CrossFit—and built to withstand exercises that range from strength training to low impact, regular use of the mini ball can improve the strength of your abs and lower back.

10. Peanut Ball (Open Up Body, $19.97)



Photo courtesy of Amazon.

Reduce muscle tightness, speed up recovery, increase blood flow, flexibility and mobility, and prevent further injury with this small tool. Place the Peanut Ball between any trigger point in your body and a flat surface, and let gravity do the rest. The portable tool opens up the fascia covering your muscles in your lower back, neck, shoulders, chest or anywhere you feel sore.

Check with your doctor before using any of these product, as they may not be suitable for people with certain medical conditions.

Do you have a favorite product for back pain relief? Share it in the comments.

We hope you love these products as much as we do! SparkPeople may collect a small percentage of revenue from the links on this page.




You will earn

5

SparkPoints

Like what you read? Learn more

about SparkPeople,

or

sign up

for your free account today!
Got a story idea? Give us a shout!