The 14 Best Subscription Boxes Delivering Health to Your Door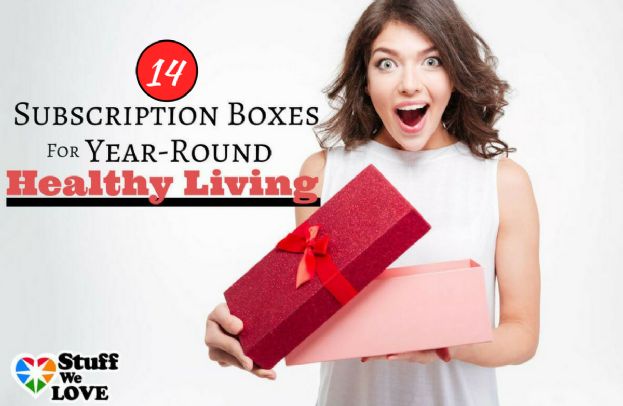 There is something special about opening up the mailbox and finding a package addressed just for you. Most of us don't ever outgrow that feeling you get when you slice through fresh packing tape to open a delivery—even if we already know what's inside. These days, you can get just about anything delivered right to your door—from diapers and fruit to yoga pants and shampoo.

Whether you're looking for a great gift to give that friend or family member who has everything or want to feel a little bit of occasional "package euphoria" yourself, subscription boxes can fill both needs.

Subscription services, which have skyrocketed in popularity over the last few years, come chock full of healthy meals, snacks, spices, cleaning products and clothes, all designed to meet the needs of your healthy lifestyle. So why not give the gift that keeps on giving?

When You Need a Marathon in a Box
Runner Crate



Photo courtesy of Cratejoy

All you really need for a successful run is a pair of shoes and determination, right? Technically, yes—but the right snacks and gear can make it a whole lot easier and more fun. Runner Crate sends you a monthly box of healthy snacks to fuel your runs, along with an assortment of runner-tested products.

Choose from a Mini Runner Crate (four to five snacks or smaller gear) for $18.97 per month or the full Runner Crate (four to six snacks and one to two running products) for $49.99 per month.

Spice Up Your Meals, One Pack at a Time
Raw Spice Bar




Adding spice to your foods is a healthy way to up the flavor ante without adding salt or fat. For $26 per quarter, you'll receive six freshly-ground spice flavor kits containing globally inspired flavor profiles. You'll need to add your own fresh ingredients to make the suggested recipes, but with names like peppercorn masala chai and Vandouvan scrambled eggs, we bet you'll be headed to your kitchen ASAP to try these delicious dishes.

Order Up the Ingredients for Home Cooking
Blue Apron





Photo courtesy of

BlueApron.com

Blue Apron's mission is to "make incredible home cooking accessible to everyone." True to this statement, the process of using the delivery service is simple and worth the effort. Blue Apron, one of a growing number of meal delivery services available across the country, allows you to choose dishes based on your palate and dietary preferences. You'll then receive fresh ingredients for chef-designed recipes delivered right to your door, allowing you to create delicious, healthy meals in the comfort of your own kitchen. "Blue Apron takes the hassle out of cooking and is budget friendly. I ended up spending less on this service than I would have had I bought these ingredients at the grocery and had little to no food waste, as all the ingredients are pre-measured with the appropriate portions. And the food was delicious!" Stacey Liebman, SparkPeople's associate director of sales marketing, said.

Choose between weekly meals for either a two-person or a family plan, starting at $8.99 per serving. As a bonus, new subscribers can get $30 off their first order.



All-Natural Products for Those Who Want to Live and Eat Clean

Raw Box



Photo courtesy of RawBox.com

Ready to jump on the raw bandwagon? RawBox makes it easy by sending you a box of roughly a dozen raw snacks, beauty products and household essentials. The RawBox team carefully chooses only healthy, toxin-free products for each box, taking the guesswork out of leading a clean, plant-based lifestyle.

To receive a box every other month, you'll pay $39.95 every two months. Alternately, you can pay $78.95 for four months' worth, or $118.95 for six months.

When You Need a Little Nutritious Nosh
Graze



Photo courtesy of Graze.com/us

Let's face it: Snacking is a part of life. Whether you didn't eat enough breakfast, forgot it entirely or just need a little extra nutrition to get you through your day, you're probably going to reach for a snack at some point. Unfortunately, not all easy snacking options are healthy (looking at you, break room vending machine) or convenient (walking six blocks in the rain to the mini mart on your work break isn't going to cut it).

Graze snack boxes handle both of those quandaries with ease. After selecting your specific preferences from among 100 healthy snack options, you'll receive a different weekly snack box delivered to your home or office to satisfy all your snacking needs. For around $13.99 for an eight-snack variety box, Graze is also great to give as a gift—who wouldn't delight in healthy snack delivery?

Help Others Fight Hunger with Healthy Snacks
Love With Food



Photo courtesy of Lovewithfood.com

Who knew you could snack healthfully while helping others? For every monthly snack box you purchase and for every month you're a member, Love With Food will donate a portion of the proceeds to organizations such as Feeding America and The Global Food Bank Network to help combat childhood hunger.

Try the tastings box for $7.99 a month or get a little more adventurous with the delux box for $16.50 a month. The snacks in your monthly mystery box contain no trans fats, artificial coloring, hydronated oils or high fructose corn syrup, and are all natural or organic.

Trail Essentials for the Avid Hiker
Hiker Crate



Photo courtesy of Hiker Crate

Enhance the quality of your hikes with a custom-assembled Hiker Crate. Each shipment includes five to eight multi-use gear items, convenient accessories, healthy trail snacks, full camping meals and a variety of other adventure-friendly items to make your journey more comfortable and fulfilling.

Choose from four plans: $35 per month for a single shipment, $34 per month if you pre-pay for three months, $32.33 per month if you pre-pay for six months or $30 per month if you pre-pay for 12 months.

Get Perfect Workout Wear for Every Kind of Sweat Session
SweatStyle





Photo courtesy of

mysweatstyle.com

What's not to love about having workout clothing chosen specifically with your preferences and style in mind delivered directly to your house? Start perfecting your SweatStyle profile by choosing how often you do a variety of workouts and during what other kinds of activities you like to wear your athleisure. From there, just select your style (Do you love neutrals or patterns? What about low necklines or open backs?) and let the company use that information plus your fit preferences to curate the perfect workout wardrobe.

SweatStyle also lets you choose what kind of items get included in each month's delivery. Low on sports bras or tops? Make sure one of each get included in your next delivery. Finish your profile with specific questions about your size and measurements and your next SweatStyle box will be on its way either monthly, semi-monthly or every three months. While there is no membership or subscription fee, there is a $25 charge per shipment that is applied to any clothing you choose to keep. Simply try on the clothes at home, pay for what you would like to keep and return the rest.

Whip Up a Daily Superfood Smoothie
Green Blender





Photo courtesy of

greenblender.com

Skipped meals will soon become a thing of the past with Green Blender's smoothie subscription service. For $49 a week, you'll receive five new smoothie recipes, plus the organic ingredients to make 10 superfood smoothies. Each 12-ounce smoothie is great as a meal or can be shared it with a loved one for a snack-size drink. With flavor options like persimmon coconut, kiwi-matcha tea and cranberry ginger, you'll be hard-pressed to come up with a reason not to enjoy consuming healthy foods most days of the week.

Clean with a Conscience
The Honest Company



Photo courtesy of honest.com

The Honest Company lives up to its promise to "build healthier, safer families" by offering products that are manufactured without potentially health-compromising chemicals or compounds for your family and home. For $39.95 a month, you can receive five home cleaning products ranging from shampoo to stain remover shipped directly to your house. Plus, you can add up to three more items to each bundle at a 25 percent discount.

Choose from popular items in personal care including face + body lotion or sweet orange-vanilla shampoo + body wash; household cleaners like their plant-based multi-surface cleaner or effective hypoallergenic laundry detergent; gummy multi-vitamins; and more to mix and match a different box every month to create a healthy, happy home environment.

Get the Best of Beauty, Fashion and Fitness Delivered Every Season
FabFitFun





Photo courtesy of

fabfitfun.com/

If you like your beauty, fashion and fitness to change with the seasons, then you're in luck. FabFitFun delivers all of this and more four times a year for $49.99 per box. Every three months, you can look forward to receiving your next delivery full of healthy new, full-size beauty, fashion and fitness goodies you might not be able to get a hold of otherwise.

Past boxes have included kitchen herb garden DIY kits, makeup, nail polish, gift cards, jewelry, Moroccan hair oil, protein bars and bath bombs from companies such as The Honest Company, Zumba Fitness, Chi, KIND and Organic Valley. With FabFitFun subscription boxes, you'll get that "Christmas-morning" feeling year-round!

Receive a Mini-Retreat in the Mail
Yogi Surprise





Photo courtesy of

yogisurprise.com

Even non-yogis can appreciate the relaxing products found within Yogi Surprise's calming purple containers. The two yoga-inspired monthly subscription boxes are curated to help you feel more Zen and centered in the comforts of your own home.

Choose the peace-beauty-balance inspired Yoga Jewelry Subscription box for $24.99 a month and receive two handmade jewelry pieces designed in Bali and an organic, fair-trade treat. The Yogi Surprise box encourages self-love with six to eight full-size, vegetarian and GMO-free yoga lifestyle items for $44.95 a month. Past boxes have included eco-inspired towels, all-natural sunscreen, light crystals, a yellow jade "om" bracelet and rawxies mint chocolate chip bars.

Making It Easy to Go (and Stay) Vegan
Purple Carrot


Photo courtesy of PurpleCarrot.com

You're short on time, but committed to starting (or maintaining) a vegan lifestyle. Purple Carrot makes it easy by sending all of the pre-measured ingredients you need to prepare delicious, nutritious, plant-based meals for your family, usually in 40 minutes or less. Everything arrives in a recyclable, chilled box that keeps contents fresh until you can unload at home. You'll also get easy-to-follow recipe cards with photos.

For one to two people, you'll pay $72 per week ($12 per plate). For three to four people, the price is $80 per week ($10 per plate).

All Your Athletic Needs, One Great Box
The Runner Box



Photo courtesy of therunnerbox.com

Looking for that perfect gift for the athlete in your life? The Runner Box has you covered. Starting at $20 for each semi-monthly subscription box, your recipient receives a package of goodies tailored toward the runner, cyclist or triathlete. Subscription boxes are filled with new products hand-picked by The Runner Box's team of athletes to aid in your specific endeavor, while one-time, limited edition boxes contain items for specific events, such as a holiday, a race survival kit or a fitness starter kit.

The three subscription boxes contain gels, chews, protein shakes, nutrition bars and other energy boosters and personal care items and accessories to aid you on your runs, rides and tri's.

Have you tried any other healthy living subscription boxes? Tell us in the comments!

We hope you love these products as much as we do! SparkPeople may collect a small percentage of revenue from the links on this page.




You will earn

5

SparkPoints

Like what you read? Learn more

about SparkPeople,

or

sign up

for your free account today!
Got a story idea? Give us a shout!