New monthly pic: losing that double-chin & bum!
Thursday, March 20, 2008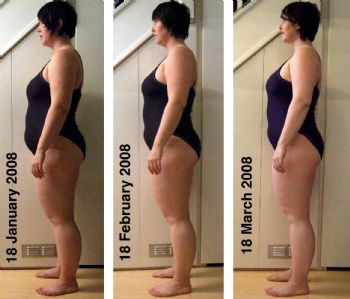 Having only lost 1.5 - 2 pounds since my monthly photo checkin last month, I was fully prepared to see no changes at all to my body on this month's photo. While it's true that there aren't any dramatic changes this time, there still are some visible changes: what a lovely surprise!
I can really see a difference on my chin & face: my chubby cheeks are smaller, and I seem to finally be shrinking that horrible double-chin - I think you can really see this in the photo. Speaking of cheeks ;-) I also think you can see a difference to my bum - even my hubby commented that he had noticed a difference, without seeing the photos. I can even see a tiny difference in my thighs, too. Just goes to show that measuring things based on the scales alone doesn't paint the whole picture.
I guess all that interval training, cycling and weightlifting are making a difference where it really counts: toning my muscles underneath the fat layer. In fact, I was *shocked* to see the first hints of a '6-pack' lurking under the soft stuff when I tensed my stomach muscles in the mirror yesterday. I had to catch it in the right light, but it was 6 of something, anyway! All I have to do now is shrink the fat away to reveal the new Muscle Miko!
When I first joined SP, I was feeling a bit timid about posting photos of me in all my flabby glory on the internet, but every month I realise just how big a motivation it is for me. Photo day acts as a mini-goal for me every month, and it's sooooo rewarding to be able to see even the tiniest change. I think everyone should track their changes with pictures, even if it's not made public or not as skimpy as a swimsuit. It's making all the difference to me.