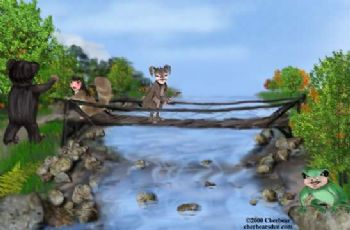 This is my Palm Sunday Lesson for the Teans on my site and I could not resist putting it up first. For those who are interested, I will try to post the Easter Sunday message on Sat. night.
The Bible Says:
"...We are full of joy in God because of
our Lord Jesus Christ. Because of him,
God has brought us back to himself"
Romans 5:11
Palm Sunday - Bridging the Gap
Have you ever been on a bridge and looked below? They keep you from falling into dangerous places! Having a safe way to get where you need to go, is a real blessing. God has prepared a safe way for you to come to Him. It is a part of the wonderful plan He has for your life on earth and in Heaven.
Jesus was God's only Son and God's Son came to earth. God told us all about it in His Word. He wants us to know how to come to Him! The Bible is God's voice to us about what His Son has done to save us. It tells how Jesus built the bridge to lead us across a huge gap. This gap separates us from God. The gap is our sins, the wrong things we do! God does not want us to fall into sin. Before we know Jesus, we are lost from God. Our spirits cannot know God's Spirit. God loves us and is waiting for us to come across the bridge. Jesus will forgive our sins so we can have the blessing of knowing God and living forever with Him. Our spirit can be connected to God's Spirit forever. This is the greatest of all God's blessings.
(Picture above)
The Kid Cave Critters need to go to the other side of the forest. Liam Leapfrog already went across and is waiting for his friends to follow him. He hopped across this bridge! The waters are very rough below. He did not want to be separated from His friends. Cami Cub does not want to be left behind. Gramma's Critters are very thankful for this bridge.
There is life forever on the side where God is. Jesus is the only bridge that will lead us safely to God.
Jesus answered, "I am the way and the truth and the life.
No one comes to the Father except through me."
John 14:6
Will you hop across as Liam did? Will you tell your friends and family to come to know Jesus? God will bring them to himself if they will love His Son. Jesus made our way to Father God. We need to tell those who have not found God. If we really care the way God cares, we will tell them. God's Holy Spirit will help us!
www.cherbearsden.com
©2000 Cherbear
http://cherbearsden.com/teens/enlighten/trails/35pstruth.html