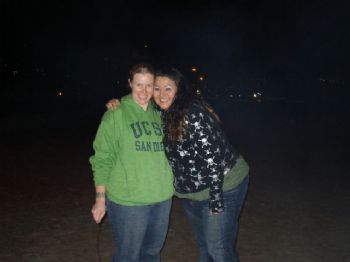 Yup, that's me up there... using the fat kid's trick- the oldest one in the book- BAGGY CLOTHING! I'm too ashamed to post the one of me scarfing the s'more! Hahaha!!!
So, my plantar fasciitis was officially diagnosed by a medical professional. It's been difficult in the healing process. The best way to heal is to stay off your feet. Yeah, right! Like THAT'S gonna happen! I have stayed off them as much as possible.
That means having to modify my routine. I haven't gotten any kind of "real" exercise since being injured (and school has been a tremendous struggle all quarter), so now I've come up with a few new ways to get moving without straining my poor patas.
First, and this is the one I'm really excited for, I'm taking a swim aerobics class. This one comes straight from a suggestion by a wonderful, gracious member that commented on my last blog. I think she's correct in that swimming and staying in the water will reduce the strain on my arches. Plus, I know I'll get a swell workout! I go twice a week, and I have 2 swimming pools in my apartment complex.
Second, using the resources here at Sparkpeople, I've favorited some exercises that are geared for people to do sitting at their desk. If I can't be standing, then I can at least workout while sitting, right? It's at least a start until the tootsies heal completely. I've got to do something!
Thirdly, I need to be more diligent when it comes to eating better. I'm a major emotional eater and when I stress, I grab anything in sight. I've made a list, printed it out, and hung it on the wall of my guidelines. They are as follows:
"No More Fat Ass"
1) Exercise 3-4 times a week
* 30-40 mins. Cardio [Treadmill, elliptical, stairs, bicycle, etc]
* 2-3 days of hammer strength [work each muscle group]
* 2-3 days of circuit weights [work each muscle group]
* 2-3 days of core training [choose 3 exercises per day]
* 10 mins. of Stretching [stretch each muscle group worked]
* Explore new exercises: boxing, aerobics classes, walking in the 'hood, etc.
2) Eat healthier meals
* Add more fruits and vegetables
* Add more whole grain
* Add soy products
* Add lean meats [fish, chicken, etc.]
* Reduce fats, red meats, salts, carbs, calories, etc.
* Take vitamins daily!
3) Make better choices
* Split the meals
* Choose Chicken!
* No fried foods!
* Drink water
* Don't be lazy!
* Take the stairs
* Get adequate sleep
So, those, in addition to academic goals, are what I'm focusing on for the next 11 weeks. Healing feet, losing weight, and getting healthy in addition to good grades and quality work... I have quite a quarter ahead. I'm looking forward to [most] of it!