Ugly Duckling
Friday, April 04, 2008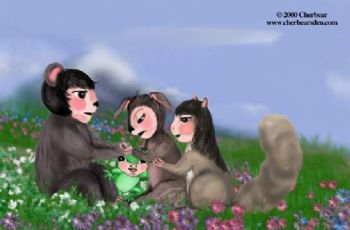 This is one of my teen devotions but it really speaks to me today! You can hit the link below to visit it and the lesson "Searching Through the Brush," and the daily devotions that go with it..or just see if the Lord speaks to you as He does to me through this. Joshua is our special needs grandson and in this one, the critters comfort him after he is ridiculed.
http://cherbearsden.com/teen
s/insights/is51s.html
Ugly Duckling?
Do you know someone who is being shunned as an "ugly duckling?" How sad they must feel. My heart goes out to those whom the world labels because of their outward appearance.
God wants us to think about all people the way He does. We need to help others, not hinder them. Every word and action we take concerning others must be for the purpose of building them up, not tearing them down. What a person is like on the inside, in their inner being, is where God is looking to find hearts that are turned to Him. We can help others to have a heart for God by showing them His kindness and goodness!
James 3:9 ¶ With the tongue we praise our Lord and Father, and with it we curse men, who have been made in God's likeness.
www.cherbearsden.com
©2001 Cherbear
"The lamp of the LORD searches the spirit of a man, it searches out his inmost being."
Proverbs 20:27