Week Seven, Day Five
Saturday, April 19, 2008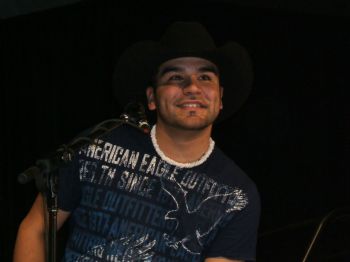 Plant Big Seeds - Tonight I went to the Centre Street Church for their fifth annual auction/concert. The music was provided by Paul Brandt, Shane Yellowbird, Carolynn Dawn Johnson, Aaron Lines, Jason McCoy and Johnny Reid. LOVED it. Didn't get the skateboard (for Logan) that I bid on but c'est la vie. It was so much fun.
Daily stats for April 16: Calories 2294 (way over), Water 9, Fruit 4, Vegetables 4, Cardio/Strength -3 km Tempo run. 17:56 (180 calories burned)
Daily stats for April 17: Calories 1608+ (probably just under. I had a wrap that I can't account for but it was all good things)Water 13, Fruit 3, Vegetables 2, Cardio/Strength - 4 kms Steady run 25:59 (247 calories burned) and 20 FitFix circuit @ GoodLife. 5 minutes on the elliptical & 6 minutes on the treadmill (warm up/cool down)
Daily stats for April 18: Calories 1592 (under but I'm full)., Water 8, Fruit 3, Vegetables 3, Cardio/Strength -Nothing. Unless you count cleaning snow off the car. FOUR times!
Tomorrow is my second Climb for Wilderness. Basically, this is where the Calgary Tower opens its stairwells to crazy people like myself who then PAY to climb the 802 stairs to the top of the tower. I signed up for multiple climbs. Hopefully, I don't hurt myself because a) I have to run 18 kms and b) work a five hour shift on Sunday. Maybe they'll let me sit down behind the desk. HA!
Night all!