Stupid, stupid, stupid cold
Sunday, April 20, 2008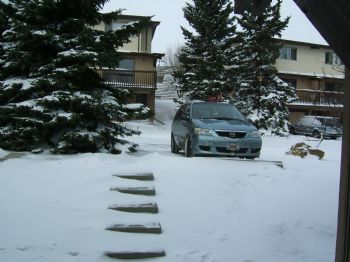 Ya know, I'm starting to think that I can't have a "nice" 20 km run. This morning, even tho' technically I was running two 10's, it was -12 with a windchill of -23. My first 10 was cut short at 7 because of wind, blowing snow and crappy pathways. My second 10 was cut short for much the same reasons with the additional joy of 6-10 inch drifts of snow. I swear, I'm just going to curl into a fetal position before my next 20k training run and stay there.
C'mon it's frickin' Spring. What is going on??
I work this afternoon at job #3, so perhaps I'll hope on the treadmill and finish the distance that I missed this morning. And do a FitFix, too. I need the endorphins. I'm so upset right now.
Ok, shower, food and no more pity-me party!