Week 8, Day 1
Monday, April 21, 2008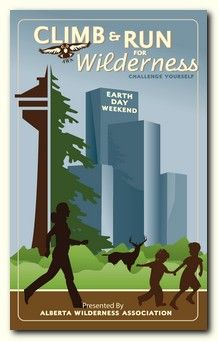 I spent so much time yesterday focusing on the bad parts of the weekend that I didn't take time to reflect on the good. So here goes:
Saturday, I got up at the crack of silliness (0545) and prepared to head down to the Calgary Tower for MY second (annual) Climb for Wilderness. Last year, I made the 1 km run and climb up the 802 stairs in 16 minutes. This year, my goals were different because I didn't do the run. I just wanted to make it up to the top at LEAST four times and, hopefully, five. Kerry challenged me to lap her at least once and I took her up on it. I'd have made it, too if the elevator didn't have such a big line up. (that's my story anyway). I reached my initial goal of climbing the four times and averaged about 9:30 for each climb. Not a bad day. I think that I might have done five but I got tired of waiting for the elevator after the 4th finish and took the stairs down. Midway, I got a weird cramp in my foot that scared me... so I bailed. I had to run on Sunday and NOTHING was going to get in the way of that. Besides, our brunch reservations were for 1130 and I was a little bit on the hungry side.

Later that night Glen and I finally got our "date night". It's been way too long since we did something like watching a movie & cuddling on the couch. We watched "live free or die hard". We're SO romantic. It was good for my psyche, tho'. And it gave us a chance to just be.
Another bit of awesome that I got to participate in this weekend. I was working and Neptune42 came in for a workout. She hopped on her favourite machine and hung out there for a while. After a bit, I heard a very excited "PENNY!" and when I went over she said "I finally broke 5 k on this thing!". It was so cool that I got to be there for that. She was just glowing. Have I mentioned that I *L*O*V*E* job #3?
OH (and how could I forget this?!) THE FLAMES WON THEIR GAME! GO KIPPER! GO FLAMES!
Anyway, I'm over the loss of mileage on Sunday and I'm refocused on attaining this weeks mileage. The Bluenose Half is rapidly approaching and I leave for Halifax in THREE weeks. (happy dance) I can't wait to see Mel again.