Getting smaller... or going south?
Sunday, April 27, 2008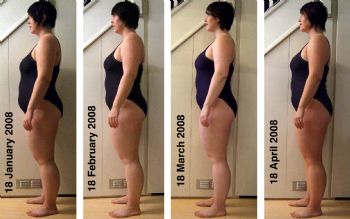 Well, I must admit not taking my monthly photo on time this month. I was 3 days late... not that it made any difference in terms of weight loss. I really shouldn't have let life's hectic pace get in the way of my mission!
Oh well, here it is. Not as bad as I thought. I expected to see a bit of puffiness, but it looks pretty much the same as last month.
One thing I have noticed is that my bum is getting smaller every month. This is visible even on this month's photo... or is it just lower/saggier? I haven't been doing much exercise this month, so maybe it's just heading south and not shrinking!
If you want a closer look, you can click on the photo from my homepage or view it in the gallery. Hang on a minute, did I just invite the whole internet to take a closer look at my bum?!?!?
I do hope that the sunnier weather will inspire me back into the gym. I feel guilty wasting all that money.