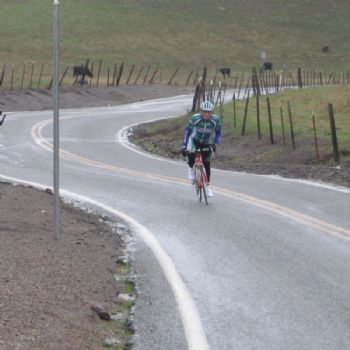 Here is my race report =)
Devil Mountain Double Century
How do you prepare for a 22,000ft 207 mile ultra endurance race?…how do your prepare yourself for blistering hot temperatures that cook you from the top while it reflects up from bellow from the asphalt? How do you prepare yourself to psychologically deal with top athletes suffering on the side of the road and quitting in front of you?
This race began with high hopes on April 25th at 5:00am…some of us hoping to beat their previous year's times, some just hoping to finish a ride of this magnitude, and others, like myself just hoped to have a slightly nicer ride than that of the previous year…and as the hours went buy and the sun came up, the heat of the morning told us that this day was going to be another HELL like last year
I hit the first Mountain feeling good, my riding partner took off at his comfort pace, and I stayed at a moderate pace as to conserve energy…Got to the top of Mount Diablo, checked my number in, got water, ate a few things, grabbed some banana halves and started the decent…rode the flat in between the previous climb and this one by myself, I hit the next climb at mile 50 and about 7:50am by myself. I think it was a good thing to climb by myself though, I wasn't trying to keep up with anyone…I liked this climb, a lot of tree's shaded me from the impending sun that was just starting to warm up…got to the top of the second climb of Morgan Territory Road checked my race number in, put sun block on, got some more banana's ate a few other items such as various types of melon, took a couple salt pills…ask what time it was, one of the volunteers told me that it was 9:30am…got back on my bike and started the decent down to the hotter valley heading towards Altamont Pass and Patterson Pass.
Made a major mistake after reaching the flats, I got onto a powerful pace line, and expended too much energy over the 20miles to the next climb, by the time I started Altamont and Patterson I was pretty spent, and plus the sun was almost at its hottest…this area has no tree's so I was my only shade…I suffered a little bit, felt my left quad pulling from my kneecap area so I had to go slower up the climb and use my right leg more to help it recover… got my first cramp in the middle of this climb on the back of my left quad…I had to ride out of the saddle to relieve the cramp…it went away as fast as it came…I stopped a few yards ahead and took some more electrolyte pills, to help my body with its salt expenditures…got back on, and by this time it was in the high 90's with no wind…almost the exact same thing that happened last year except it was 108...but by this time it didn't feel any different…well I finally got to the next "mini" water stop...sat for a few, took some more electrolyte/salt pills, filled my water bottles with ice water and some Gatorade ( I was getting sick of drinking so much Perpetuem in the heat) I was told that I had about 15 miles to the "real" rest stop, so I got back on my bike and started the final part of this climb…got to the top with no problems and started descending towards the Mine's Road rest stop where they had a 1:00pm cut off time…I finally got to this rest stop at 12:03pm…I saw one of me strong teammates who does normal double centuries in 9 and a half hours…he was hurting very bad, so this was a psychological thing for me…I did the same thing at this rest stop I ate a few things and grabbed a few banana's for the road, filled my water bottles up with ice water and left…I started the next climb about 1 mile after the rest stop…I slowly started up this climb little by little…you see when you ex-zert this kind of energy, and this much energy and you know that the worst of the climbing is yet to come, you just put one peddle in front of the other and stare at the ground…
Well towards the top of this climb my strong friend passed me by he told me "your almost there keep going" and I said that I didn't understand it…this weather…it was 55 degrees back here last Saturday and now look at it, its pushing 100...he pressed on ahead of me (I was sure he had gained some strength from that last rest stop)…
Well I stopped at the top of this climb, now being in the mountains again I had trees to get under and take a moment to collect my thoughts…my thought reflected back to all the conversations I had the night before when I was volunteering at the race check in…I kept saying over and over again, all I want is to not suffer as much as I did last year, I just wanted to have a nicer ride…basically I was saying that I wanted the weather to be a little kinder, and I didn't want to be alone in my suffering again…And there I was exactly a year later in the SAME situation by myself, in the heat, and suffering…then I thought to myself, (well at least I don't have too much psychological/demoralizing stuff happening around me like last year…then I got back on my bike and rolled over to the next climb on that road…I started the climb slow, and about a quarter of the way up my strong teammate comes riding down and said "take care, be safe, that's it for me brother" Then I new I was really alone, and I knew that this ride had turned around a top athlete…
You see, these rides don't attract your weekend riders, club riders or people such as that…we are a different type of cyclist, we live a monk's life training hours and hours on end for that next "big" ride…I am talking about athletes who do the Race Acrossed America, athletes who have made the Olympic trial's or have been in the actual Olympics in their past, Athletes who do long rides Like the Furnace Creek 508 which is 508 miles in 48 hours, the Grand Tour Quad which is 400 miles in 24 hours, and longer rides such as the Paris Breast Paris which is 1200 kilometers or around 700 miles in 3 to 4 days. These people are at the top of their game…and its when these people start to get broken by a ride that YOU are on…that weighs VERY heavy on your psyche, especially while you are suffering through the same things as they are…
well after the psychological trauma of seeing my friend ride passed me going the wrong way…I still had about 20 miles until Lunch which was about mile 120...so alone I started to make my way down the road towards lunch…I made a decision during those 20 miles on Mine's road to end my ride at lunch because I didn't feel it necessary to suffer just as much as I did last year to get the same "Winner's Jersey" that I already possessed…there was no point to it…and I still feel great about my decision to stop at Lunch…so, at the point of stopping, I had rode 120 miles with 12,000ft climbed.
I knew what was to come next in this ordeal, and they were the hardest of the climbs…The two major climbs of the Tour of California…the beyond category 5,000ft average 8% grade of the back side of Mount Hamilton, and the 2,000 3.5 mile average 10% grade category 1 climb of Sierra Road, and plus after those epic climbs you still had 3 major climbs until the finishing line at mile 207…You hit the base of Sierra Road with 155 miles and 15,000ft already on your legs and that = a lot of suffering.
Well, my time riding around in the "SAG" Support And Gear Vehicle re-enforced my decision to end my ride early , and my riding partner who pulled away from me at the beginning of the ride on Mount Diablo told me about the horrible struggles of what happened after I stopped….
Wile I was riding in the SAG vehicle, we had to stop several times to help riders who were sitting on the side of the road throwing up from the heat and the strain of the day…people who were cramped up so bad they couldn't stand anymore…and when we finally made it to Sierra road, a lot of people were walking their bikes, one guy had broke his chain, another guy didn't know were he was anymore…and toward the top of that hellatious climb we had to make room in the back seat for one guy who could not eat or drink anything anymore…he was throwing up constantly, his stomach was completely and totally shut down.
It was a good thing that I live by Sierra and so they could just drop me off at my house to make room for more victims of this torturous ride…I am glad that I did it in the worst possible circumstances last year and I am still able to say that I did, and wear my jersey with pride…I have no regrets about my decision to stop…there were grown men literally crying tears on the back of Hamilton out of their own frustrations about there body's shutting down…
But with all the suffering there were several top athletes who weren't having a bad day, and who were able to weather through the harsh conditions, and finish, and there were several who could not…but Either way, I feel that I was smart to have ended soon for myself after seeing and hearing the reports from friends and such…I will watch the weather more closely next time and will do this ride again next year with the hopes of having a nicer ride than the first time I completed it in 22 hours =)