The eve of week 10
Monday, May 05, 2008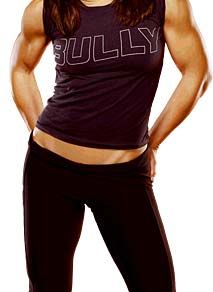 It's Sunday, May 4th and tomorrow is the first day of the last week of our 5% challenge. The ladies have done well and I'm very proud of all of them. Even if they didn't meet the 5% goal, they tried really hard and made some good changes in their eating and fitness habits.
This week:
The good ~ I stayed within calorie range four out of seven days.
I drank at least 2L of water a day.
I had at least 4 servings of veggies and fruit per day and, often, 6 or more.
I ran four days for a total of 35ish kilometres.
The bad ~ I did not do any strength training. I'll work to improve on that this week.
I leave for Halifax in exactly one week. Before then, I want to:
~strength train twice
~run three times
~maintain my water/fruit/veggies consumption
~stay within calorie range at least four days
I want to finish the challenge weighing the same as I did (or less) than I did when it started.
Totally doable. I hope.