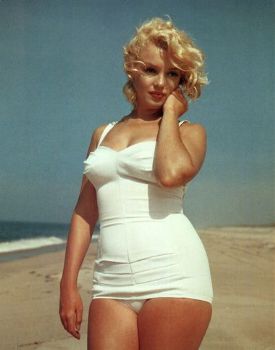 After perusing some of the message boards on SparkPeople lately, and reading several fitness-oriented blogs and women's issue-oriented blogs, I have been thinking a lot about body image, body types, and how we think about these things (individually and as a culture). While I have always been generally happy with my body, I have my moments, like everyone else.
Thankfully, I was raised in a health-conscious household, and my mother especially was always trying to enforce healthy habits. A healthy body image was part of this. My mother always told me it was not worth it to be thin if I was not healthy. Exercise and a healthy diet were crucial, and how your body looked was not emphasized. I realize now that I am older that this attitude has helped me really accept myself and have a healthy attitude toward my body and my health.
If anything, lately, I have been wishing that I was not as thin! I am not super-skinny, but I have never been very curvaceous either. I would not mind if I was a little more on the Marilyn Monroe side of things...bodies like that always look so feminine and beautiful to me. But, beauty comes in all shapes and sizes and it is best to be at your natural healthy body type, whatever that is.
My occasional longings for more curves have me thinking about something that my grandfather said to me when I was about 16. I was walking around the neighborhood with my grandfather and my mother, and my grandfather commented to my mother that I was becoming a beautiful young lady and that I looked good because I "wasn't skinny." For a moment this caught me off guard. Among nearly all the girls my age, "not skinny" was NOT a compliment! Not skinny implied....fat! and we lived in a culture where fat was a terrible thing. So how could I be beautiful and "not skinny?"
I thought about what my grandfather said, and I realized that when he was growing up, "skinny" probably would have been a negative term referring to women who looked underweight or undernourished. Over time, it had morphed into a compliment as being thin became more fashionable. As I think about it now, I think me grandfather's comment reflects a healthier attitude about women and their bodies by appreciating our natural curves.
It's good to question what we have been told is beautiful and look at it from a different perspective. I have always believed that healthy is beautiful, whatever physical form it might take. Diversity in shapes and sizes is was makes us unique and truly beautiful, including when we are "not skinny."