33weeks Preggo!
Monday, May 12, 2008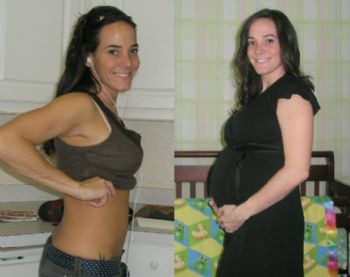 Thought it would be fun to do a side by side of my FLAT abs (I was 5 weeks pregnant there,) and my most recent belly picture at 33 weeks on Sunday. WHAT a difference!! I'll be striving to get those abs back in about 7 weeks!!
I am still having an amazing pregnancy though. I'm on the home stretch now and can't wait to meet my little girl!! I got 3d ultrasound pictures done and she looks JUST like me as a baby!! Unless she comes out a blonde like her daddy her features will be mine for sure.
I'm doing great though. I don't have ANY stretch marks (yet) YAY! Whoohoo! That was my BIGGEST fear for sure. But so far so good. I'm signed up for a 1/2 marathon in November and already have my jogging stroller and I can't wait to get back into the gym.
I'm up 22lbs now - so I'm doing pretty good. My belly is so big now my thighs actually seem small to me - which they ARE NOT!! :) haha!
I'll try to post again before I go into labor!!
Thanks for all of the wonderful comments and support - I miss ya'll and can't wait to come back on here to get the support I need to lose the baby weight!