I went and had a fitness test today
Tuesday, May 20, 2008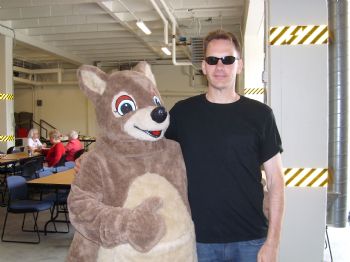 Well in hopes to stop my liver enzymes from being elevated I laid off working out quite to hard and went to see a physical trainer/therapist to get my resting metabolic rate checked and my cardio respiratory test done to see at what levels I should be working out at, as not to hurt myself anymore by overdoing it. I meet with them again next week to go over the results but they did tell me to keep my heart rate below 141 while working out. So immediately went out and bought a heart monitor and then went to the gym! I am so glad to be able to work out again even thought the heart monitor has me going at a slower rate since it beeps at me ever time I go over 141, but that is better than hurting myself or not working out at all.
My only problem now is I want to go home tonight and go for a run again even though I have already worked out twice today. The weather is so nice and I want to try out my new toy on the streets so to say. But I will not since I do still need to give myself time to recover from the two workouts I already had.
I also have now been maintaining for 6 months and doing my new lifestyle of being healthy for 1 year!