Great day!
Thursday, May 29, 2008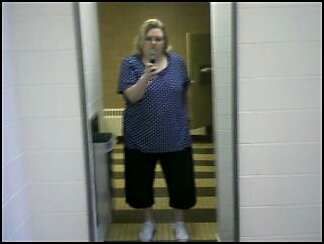 For the past couple of weeks I have been depressed. With my brother moving to Colorado, to my night of eating icing and drinking coke, things looked kinda bleak. Then something happened. Something great...
I realized while I was on my trip to Colorado that I need to do something to make me happy. No one else can. The first thing I need to do is find a new job. This one I have now, just is not for me. But I don't want to start getting all negative, so I am just going to leave it at that. So tomorrow, since I have Fridays off, I am going job hunting! I am so excited about that. Fingers are crossed that I will find something and they will be "Oh Renee, you are just perfect for the job. Can you start Monday?" Ok, I know it won't happen that fast, but a girl can always dream. So that is part 1 of why this is a great day.
Part 2: Back in Feb I had bought myself a pair of jeans and capri online. They are both the same brand and the same size. When I received them I was so excited, but the Capri's did not fit. The jeans fit fine. They were too small, (wish it was the other way but anyway), I admit I was a little upset. But I decided I would keep them and try to lose the weight to wear them. So the past couple of weeks I would try them on every so often to see how they fit. Well this morning I thought I would give them another try. Sure enough they fit! So despite my setbacks the last few weeks everything has paid off. I am able to fit into something that I was not able to a few months ago. By the way the jeans I bought at the same time. They are getting a little too big. I can slide them down without having to undo the button or zipper!
But I don't think I would of been able to get into these so soon if it was not for the support of Spark people and all of my friends that I have made to keep me motivated and the support I needed when I was falling. And of course my mom!! She has been the biggest support of all, even if she does not believe it! Love you all!!
Edit note: Ok I just had to have a pic of me and the capris. The pic is not the best, still trying to get the hang of taking a pic in a mirror. But at least I have it!