Motivationial hurt leads to Doneness supreme!
Sunday, June 29, 2008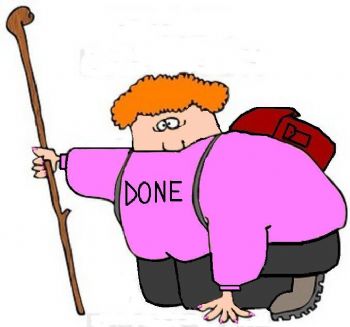 Yesterday was yard day. We moved rocks to line the side of the driveway, pulled weeds from the overgrown flower bed, scrubbed the porch, got sunburned, and I was lucky enough to be told I was fat. I had just finished weeding the entire flower bed and popped open my vitaminwater.
My youngest says, "Mom, I'm so glad you aren't drinking soda anymore. This will help you not be so..."
"Fat?" I asked.
"Well you are gonna be sooooo skinny and beautiful." He responds.
This is following a conversation from the night before. I would be so attractive if...I just lost the weight.
The kick to the stomach came when I saw pictures of the days events.
"Wow, do I really look like THAT?"
Although my self-esteem took a big hit, I think I needed it. I had fallen back into old habits. Feeding my emotions and being lazy. So, I'm back on my scale, accepting my actions, and making my plan of attack.
I am a Done sista! I am worth it!