French Market Today...
Saturday, July 05, 2008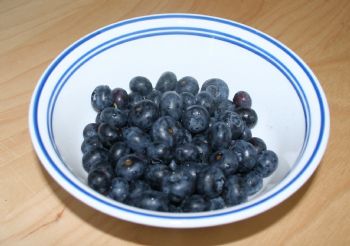 Today my DH and I went to the French Market in a nearby town. We bought fresh blueberries, strawberries, cherries, plums, peas, & zucchini! I also bought an almond pastry. It wasn't that big and I shared it, but it tasted like butta (sorry I'm from Boston)! It was delicious, but I think that was my lunch, Yikes! Don't worry, I ate blueberries with it, Yummy! I also did so much exercise this week that I'm taking it a little easier today. Yesterday I figured out I did 3 hrs. of exercise and 2 of it was from cardio. Still, this morning at weight in, I was up 1 lb. I know it must be the sodium, wine and old age that is doing it to me. But still, if I am eating less calories than I am burning, shouldn't I be losing at least .5 - 1lb per week. I'm not greedy anymore. I just want a lose. Not a gain and not a stay the same.
Oh yeah, I forgot about that pretzel bread I ate, OMG it just needed a mustard dip! I've done my damage and am now back on track. I truly never get out of this apartment so I went a little crazy with all the fresh stuff. But buying more fruits than pastries was a definite good thing LOL!
I know, I should never have found the wonderful organic wine and the organic vodka I bought, but have yet to try. But those are for another day!
Hope everyone had a wonderful and healthy 4th of July! Mine was alright. I saw fireworks from my living room window! Have a great day to all my blog fans, if in fact I do have any LOL!