I ran a 15k on July 4th! My first race ever.
Friday, July 11, 2008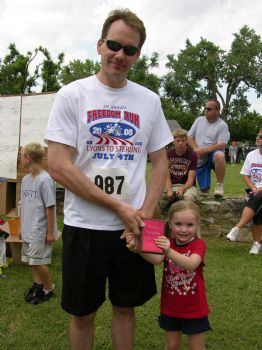 I finally ran in a race on July 4th, the Freedom Run in Sterling Kansas. My wife told me about it a couple of days before we went to Sterling, her home town and I thought about it and decided to give it a try. They had both a 5k and a 15k to choose from both on very very flat routes. I ran the 15k with a total of 25 people in the run. This is the first time I ran with other people and it kept me running at a good pace, let alone it being my first race. The first 3-5 miles are challenging and then the endorphins kick in and I was good to go, even had me sprinting the last 1/3 mile since I still had a good amount of energy left. Did the whole thing in 75 minutes and finished 8th overall, my age group only had one other person in it so I won that and a little plaque. I had fun and felt good afterwards and that is all that mattered. Next up maybe a couple of 5k's and 10k's in the Topeka area coming up. This was a great first experience for me and I know I will not win a medal or plaque every time but it will be fun and rewarding to just do the runs and get the tshirt. Please let me know if you are in the Topeka area and are running in any of the upcoming races or runs. Feel free to comment about your running and racing experience on this blog posting. I also burned 1900 calories running 15k for those of you who are keeping track at home, hee hee! And yes I took the next day off, especially since we were driving to Colorado for a family vacation and 10 year wedding anniversary trip. I hiked and ran in the mountains for my workouts and it was awesome! More about that later!