Had my baby!!!!
Tuesday, July 15, 2008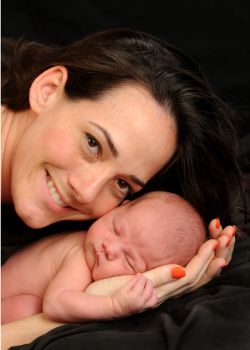 Well I finally had my baby girl!!!
Vaughn Kimberlyn was born July 3rd, 2008, she was 6lbs 13oz, 20 inches long. It was a LONG labor (66 hours). It was hard, the recovery was hard, but it was totally worth every second!! I was able to deliver vaginally (luckily), after a LONG wait from my stubborn cervix!! My stitches are healing fine though. I never even imagined I would feel this way about another human being!!! She is gorgeous and amazing. She has dark blonde hair and blue eyes, and looks a LOT like her daddy. She is SUCH a good baby, which is lucky for me because my hubby is still in Iraq for 4 more months, and none of my family is here (mom came for 2 weeks and is gone now.)
I made it through my pregnancy with flying colors!! I gained 25lbs, I have NO stretch marks, and I am already down to 135lbs!!! I fit into a size 6 jeans and my stomach is flat!! I can't believe it!! I didn't work out my entire pregnancy!! I can see my upper abs too!! I'm only 12 days post-partum and you totally can't tell I just had a kid. Everyone who sees me is amazed. I'm amazed! I totally contribute it to being in the best shape of my life before I was pregnant. I'm losing weight quickly due to breasfeeding and also pumping 30oz of breastmilk a day as well. Burns LOTS of calories!!!
I can start walking at 2 weeks, so I am excited to start doing that. And I will be able to work out when she is 6 weeks. YAY! I am definately waiting until then, I am still healing down there and bleeding a lot and am probably already over-doing it a bit, so I'm not trying to do more than what I'm doing already.
Thanks EVERYONE for all of your support these 9 months!! I know I haven't been on here very much. I didn't want to get obsessive about what I ate or anything, and I didn't have the energy to workout. But I feel great now and can't wait to start working out and talking to everyone!!
Here's to getting my pre-pregnancy body back!!