I Got My New Bike...
Saturday, July 19, 2008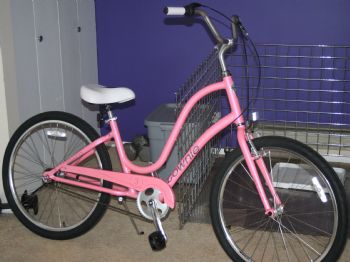 I'm so excited about my new bike. It's theeee most comfortable bike I've ever ridden. This is only the 3rd bike I've ever owned. I had a stingray growing up and loved it. Then a bike in my early 30's that was so horrible I rode it once. So it's been almost 20 years since I've ridden one.
I took it out in the store parking lot to try it out before I bought it. I was so nervous that I was not going to be able to balance and I would just fall right over with customers watching me. I felt like a little kid. The wind in my hair and holding my breathe so I didn't run into a car to stop. It was so much fun. The brakes were easy enough to use so I didn't need to run into anything to stop LOL! It's light enough to carry up the 3 flights and hopefully (haven't tried it yet) easy enough to carry down the stairs.
Life is Wonderful!