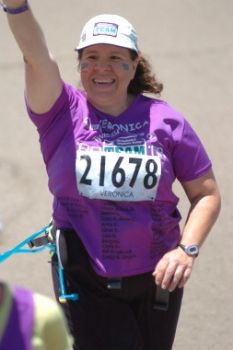 Hello there.
My name is Veronica. I am 40 years old. I am a wife (9 years) and a mother to a 3 year old boy and I'm known amongst my friends as "The crazy cat lady" I had 8 at one point. Now I'm down to 5 (adoptions)
I know I've come along way since starting this program in '07, but I'm a little sad that I'm not further along. To make matters worse, I'm going through a dry spell right now and I'm having a hard time getting back on track.
I ran/walked a marathon June 1st (6:03:02) and I've only worked out twice since then. I haven't done any running yet. I've got two weeks to get back into "running shape" before the next Team in Training season begins. I have too much pride to let someone whose never run before in their lives pass me on the track. It's false pride, I know, but its who I am.
I HATE accountability, but I HAVE to have it. So, I'm asking you to please check out my exercise and food logs and if you can, give me some encouragement and feedback. I'm going to come up with a program I think I can stick to and prayerfully stay on track. It will include, running, walking, jumping rope and strength training.
I've broken my weight loss down into eight (8) 5% goals and I've added my planned rewards next to each goal.
My weight loss goals and rewards are:
10 lbs (182) Buy a long-sleeve tee to wear under my singlet and a pair of capri running pants
9 lbs (173) Buy a rain jacket light enough to run in while in Alaska June '09.
9 lbs (164) Get a manicure and a pedicure (at a spa)
8 lbs (156) Get a facial (at a spa)
8 lbs (148) Get a massage (at a spa)
7.4 lbs (140.6) Purchase a diva dress from Boston Proper
7 lbs (133.6) Buy a new pair of dress shoes to go with my new dress
3.6 lbs (130) GOAL!! Take my husband to dinner and a play
I would love to be a size 10 by my birthday, November 7th, and by then have three marathons under my belt (San Diego Rock 'n' Roll full-Marathon 06/01/08, San Jose Rock n' Roll 1/2 marathon 10/05/08, and Santa Barbara's half-marathon 11/01/08). If I can accomplish all of this, my reward to myself will be to buy my self a bike and start training for a triathlon.
So, that's my plan and I'm stickin' to it (with your help).