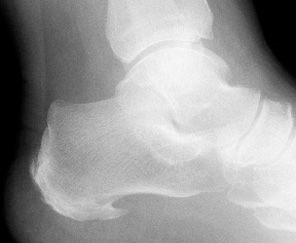 So...
Bad news at the doctor today. I finally got my poor broken pata's under an x-ray machine. The miracle of technology- it only took 10 minutes for me to view my foot pics. So, my doc shows me the top shots of my feet, which look fine. But, the profile shot (side views)... well... let's just say you don't need to be a doctor to see that there was something abnormal. The part that I was trying to avoid, the one thing I *didn't* want to happen did indeed happen- both my feet have spurred.
For those not in the know (I really didn't have a visual until today), when the injury- which is located in the tendon in the arch- is untreated or continues to be in its injured state, the point at which the tendon adheres to the heel bone becomes strained. The straining begins to cause the bone to calcify... in other words, the bone grows outwards, into a weird looking point. Thus the pain.
My doc told me (and I quote) "You have the feet of a 40-year-old." He went on to say that I must have been in extreme pain this whole time. Which is true more or less... but, I consider myself such a "badass" that I laugh in the face of pain! Not really, but I think I just got used to it after a while.
Now the "real" healing shall begin. I'm to see a podiatrist asap. I will most likely begin a regimen of light physical therapy, injection therapy (I dunno what they'll inject), and have some specially made orthotics/insoles for me to wear. If the above treatments aren't successful, I'll have to have surgery to remove the calcification/spur. I hope it doesn't come to that.
Oddly enough, out of all this, I have not been told to stay off my feet. I told the doc I was going on a hike this Saturday with my San Diego Sparkteam and he said awesome times... Told me to take some pain meds before heading out the door, and then take some more when I get back and soak my feet in ice water (or just ice them down).
Now, I'm just frustrated. I'm scared that if I do keep on my feet and exercise and such, that I'm going to be making this injury worse. But, if I don't exercise and lose some weight, I'm still going to be straining my broken feet! What's a girl supposed to do?
The x-ray above is NOT my foot, but shows you what I'm talking about. Obviously that point is NOT supposed to be at the bottom of a normal heel bone. But, I've got one on each foot! Hooray for me!!!