My Green Drink & The Dog Walk!
Thursday, August 07, 2008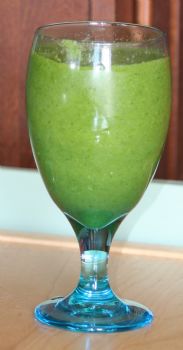 I decided to venture out of my apt. complex with my 2 little beasts (dogs, not kids)! Usually I just keep walking them in circles until we get tired. That way if they get off their leashes or collars they should be safe.
Well, today they had a little too much energy. Why did I think it was a great day to take them further out? I Do Not Know! We went for a 40 minute walk to the park. One dog is 50 lbs. the other 30 lbs. They have both been to many training classes and I train them, but they don't listen! Every time they saw a dog they liked, or smelled the scent of a rabbit they went bonkers! I nearly wet my pants (sorry to be so graphic, but it's true)!
When we finally got to the park I let them go and most of the time they just sat there! I thought that meant they were tired! NO! They pulled me all the way home.
This time I decided to take the short cut around the lake. We don't usually walk on the lake path due to goose poop and Giardia! Well, I haven't seen any geese so away we walked. The geese left their poop behind, yikes! I was holding the leashes as high as I could so they wouldn't eat the poop. I think I succeeded

But my arms were tired and my back was getting sore (can I count this as an upper body workout???)!
When I finally got home I remembered that I had another serving of Dr. Oz's green drink that I saw on Oprah the other day! It is so healthy and actually tastes good. Well it was already the afternoon so I wondered how I could make this healthy, green concoction taste even healthier! Hmmmmm VODKA! Don't worry it is actually organic vodka

Now I am resting and the dogs are finally quiet and I will be taking them for another walk later, but this time a much shorter one with DH in toe!