Temptation at its absolute finest!
Sunday, August 24, 2008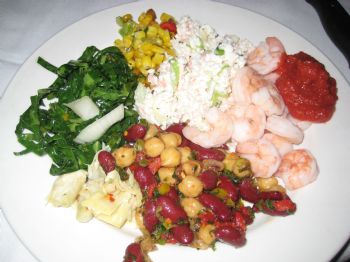 It was my uncle's 50th birthday dinner tonight and I found out the other day that it was at a Brazilian Buffet. Nice! I went to the website and almost cried - it is a MEAT BUFFET! Check it out, lamb, chicken, tri tip, sirloin, prime rib, lamb, pork...you name it, they had it. And it was all you can eat. God help me. Here's a link to a picture of the food...
www.greenfieldchurrascar
ia.com/privet_room.htm
What's the big deal you ask?
1 - I gave up meat as of Tuesday, August 19, 2008. (along with milk and cheese)
2 - I used to LOVE MEAT. I mean, LOVE IT. I'd eat a steak as big as the portion my husband would order. It was borderline embarrassing.
So for a newbie to non-meat eating like me, this was going to be hard.
I did ok though and although I ate a lot (no stress there bc of the 9 miles I ran this morning and the great calorie week so far), I DID NOT CAVE!
I stuck to the shrimp (keeping seafood in my diet for now) and salads. And carrot cake, naturally. (the picture is of my first of like, 3 plates of food).
Best part? NO FOOD COMA afterwards!!!

WAHOOOOO!