*Squeal* PR@ Disney Half Marathon YAY!
Monday, September 01, 2008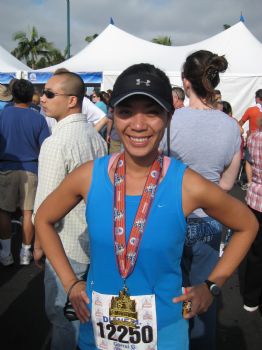 I went into the Disneyland Half Marathon not planning on doing a PR but deep down HOPING I would (don't we all?). And I did it! I was so pumped!!
For the first 9 miles I was pacing at a subpar pace, it was so crowded - that's what you get for anything Disney-related I guess. At mile 9 I just said to hell with it and ran my heart out. My HR actually was creeping up towards 180 a few times. But it worked! I beat my old time by about 6 minutes! I came in around 2:08.
I haven't been to Disneyland much and not since things like CA Adventure opened so it was very cool to run through the park and past all the floats and characters. The course had a TON of bands and cheerleaders out, the energy was awesome. And to run past Angels Stadium and the Ducks stadium at the Pond, so great.
The finish line was actually in Downtown Disney - very surreal.
The only cons to the run was that it was muggy and hot even at 6am, twas crowded, and my Garmin hadn't charged the night before so I had no idea what my pace was.
Next goal - come in under 2:05. After that, come in under 2:00.
I'm on a runner's HIGH right now and had to share!
Thank you thank you to my Sparkers for all your kind words of encouragement and support, it was a part of what fired me up at the end!