First Timer with Loads of Drama
Monday, September 01, 2008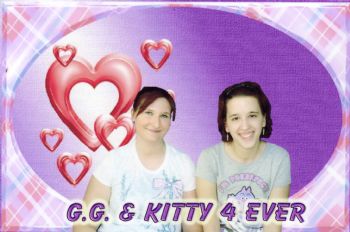 Alright well this is my first time of actually TRYING a diet whole heartedly and getting the information needed to create a work-out plan for myself.
I am new to this site and thought I would go ahead and put myself out there. I'm not quite ready for the message boards being that this is like a new language to me but I really am trying to branch out.
I recently left my husband of 4 years due to his inability to show true compassion and I do believe I may possibly be turning gay, I have been with my girlfriend Caitlin (picture below) for nearly 2 years now and we currently are living together, but I feel myself slipping and it scares me. I mean my life has changed SO much in the past month, I just feel like I have no control over anything.
Anyways back to the subject of joining this site. I am really hoping to meet some great people to help keep me motivated via SparklePeople. If anyone needs a online buddy to be their support please let me know because I could really use one myself!
Besides that...If you would like to know more about me my MySpace is myspace.com/thumpering_kitty08
I do hope that I can reach my goals that I have set and I really hope that my self-esteem improves in the near future.
Thanks for reading!