YES! FINALLY reached my goal!
Friday, September 05, 2008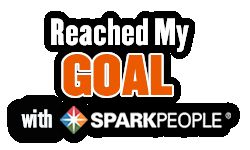 It's a great day, a day I thought would never come. I'm still kind of in awe. Since January 2007, I've been trying to get to 130, not really knowing or caring how. I've learned that it's not about the number, but how you feel about yourself that really matters. And I feel so blessed to feel so healthy and strong.
A year and a half ago I:
- was breathless after running 3 minutes
- went to the gym at 5am to avoid people seeing me
- slept in sweats and baggy clothes
- hated myself.
I am truly a new woman, inside and out.
I love Sparkpeople. I love what this site and my Sparkfriends have taught me about healthy eating and exercise. I love the support system we provide for each other.
I just love being me, and for the first time in so long, I really mean it.
If I can do it, I know 100% with all my heart that anyone can reach their goals.
Thanks for EVERYTHING to my Sparkfriends and Sparkpeople for helping me reach my goal.