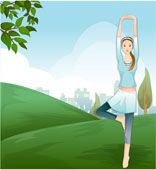 Keep going
When you've reached the goal you've chosen for yourself, set your sights on an even higher objective. And keep going.
When things have not worked out the way you planned, learn the valuable lessons that the experience has to offer. And keep going.
The key to meaningful achievement is not in how clever you are or how lucky you are or in how much advantage you can gain over others. The key is to keep going.
When other people give you encouragement, insight and assistance, thank them for their help while offering your own special value to in return. And keep going.
When others seek to block your every effort, raise yourself up to where you can clearly see beyond their petty, shortsighted attempts. And keep going.
Whatever may come or go or happen or fail to happen, there is always a way, some way or another, to keep going. You will get wherever you wish to go when you consistently choose, in each moment, to simply, thankfully and gracefully keep going.
-- Ralph Marston
I found this article and it spoke so much truth that I wanted to share it with all of you.. Regardless of where we are on our journey, the most important thing that we need to remember is to Keep Going... I know the secret to reaching our goals is to keep going regardless of what we have done and the kind of day we have had.. If we eat too much, then we get right back on our healthy plan and keep going....if we don't want to exercise, then we need to make ourselves keep going.. Whatever it is that we don't want to do, we need to keep going !!!
I know that we are all going to reach our goals because we did not give up and we kept going...
Hugs and Prayers to you all,
Sherrilou