Men's Retreat
Saturday, September 27, 2008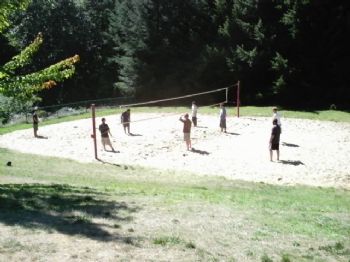 The first part of my vacation started with my first time at a Men's Retreat.
I never been to a Men's Retreat. The Men's Retreat was at Camp Tadmor.
I must say it was the best camp I have ever been to. A camp just for men of all ages well 18- older. The first day there was awesome and it was just the first day. It started like this first you sine in and then find your cabin. You travel around camp looking for your cabin with the map they give us. That was not to bad it only took about 20 minuets. We ( Jim the driver, Nick and I ) quickly unloaded the van and pick out our bunks. We arrived around 3pm I think diner was not until 5pm. So knowing this we to a nice long hick around the 200 accers they have there by this time we have a clue where every thing was. At this time it is time for dinner. You would think that they where feeding an army or at least some that never ate before. The first night for dinner and this is no joke a half of chicken mashed potato's and gravy, corn, and strawberry short cake and a something to drink. My gosh there goes the diet. How cares about dieting it's camp. LOL
All of the meals where like huge. It was a good thing it was lots of food I needed it to last from one to the next with all the hiking I was doing.
We had a guest speaker. Alex McFarland and special guest musician Kent Bottenfield and an awesome worship team from Eastside Foursquare in Prineville, OR.
This was the best way to find your self and what it is that God has for you.
It was the best 3 days ever.
I say go to a retreat ether men's or women's. It well be awesome you will love it. I plan on going next year.