The Beach
Sunday, September 28, 2008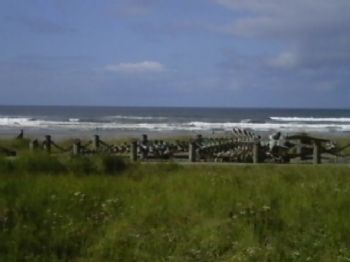 The rest of my Vacation. The beach it was awesome. My cousin ( Joe ) and I did a lot of hiking and some swimming on the first three nights. The first three nights we stayed at Seaside. We one morning woke up early and took a morning walk along the shore line looking for something cool that washed up on shore. All that walking and not one thing washed up.
The next four nights we stayed at Long beach there we did a lot of fishing sea bass yummy. We did some fishing in Ilwaco out on the jetty. We where standing down on the rocks by the water and a wave came in and splashed me from the knees down soaked my legs and feet that was cold. Time goes by so fast that after been in out there for about 4 hours it felt like only one hour. There was lots of sea lyons out and one was on it's back and I said you there yeah you sea lyon and it turned its head and look at me then swam off. LOL
Even though time went by fast it was awesome time.