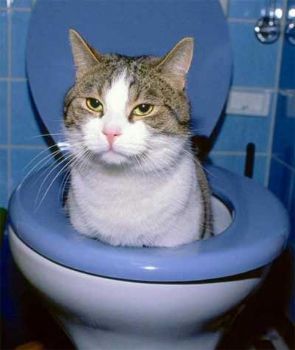 There's a lot to be said for the togetherness shared between man and wife, when they reside jointly in a camper. One can close the bathroom door, but regardless of your efforts, the sounds and smells, resulting from your "other efforts," tend to permeate and escape through the walls and under the door. You can turn on the faucet while squatting and taking care of business; this will sometimes stifle the noise. You can light a match while doing one's daily duty (or is it doodie?); this will sometimes mask the stink.
Recently, I emerged from the bathroom and was questioned by James, "Did you poop?" First of all, let me clear the air (so to speak); my hubby is not consumed with my bathroom habits. It's just that some times, our bodies are in sync and it's a race to the commode; first one there is guaranteed fresh air. The only advantage of going in second--the throne is warmed up. "Nope, I just fluffed," I giggled and replied. "But don't worry, I smell like a petunia!" And this is where hubby smirks, and replies, "Yeah, a dead petunia!"
Many might have found this inquiry somewhat intrusive and perhaps embarrassing, but it led me to do some deep meditation. Two sayings came to mind, when I allowed myself to dwell on the creation process of my stinky floaters/sinkers…
• Get your poop in a scoop.
• Poop or get off the pot.
Since the onset of summer, I've been pulled in a million different directions. I fell out of my previously established, healthy routines: balanced eating, regular exercising, ensuring adequate sleep, drinking water (while cutting coffee consumption), tracking my caloric intake, taking my vitamins, setting aside time for myself, weighing myself, and spending time on Sparks. In a nutshell, my life turned poopie and it reeks! I permitted work to take over my existence and threaten my wellbeing. I allowed work to become a priority and put myself at Number 2 (pun intended, kinda, sorta).
There were times here and there that I had declared I was going to get my poop in a scoop. But lo and behold, life got in the way! There I sat, on the pot, suffering from ghost poop--the kind you feel come out, where you go through the motions (and emotions) of wiping, yet nothing is there when you turn around to flush! I was plagued with dingle-berry poop—the kind where you know you are done, but it hangs on and just won't drop! No wonder I was having problems!! How could I get my poop in a scoop, if it wasn't there?! So summer moved on, with continued excuses and suffering of irregularity and me not accomplishing much movement. (Yep, a definite play on words, there!)
I have wasted the entire summer, squatted on the toilet, acting constipated!! There I've sat, on the commode, ailing from a Lincoln Log jam, a sort of rectal congestion, plugged up, due to bad health choices. Oh sure, I had "successful" moments on the crapper, where I blew off some steam or released some hot air, but I still suffered from "The Strain." The only thing I was flushing down the sewer pipe was all the good habits I had worked so hard to instill within myself.
Well, no more! I'm here to make a Constipation Proclamation!! I am going to poop and get off the pot! I am getting my poop in a scoop! I am taking my life back! No more wasted time, squatting and squeezing, thinking and stinking, obsessing over work and forgetting about myself!! I avow to re-establish the good habits that I know are good for me!
Maybe I'll eat a few prunes, just to be sure and to help speed up the process!
www.youtube.com/watch?v=
aDIAfE-_Ivo