Best Reward Ever!
Monday, October 20, 2008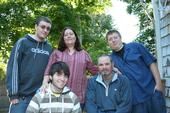 Well, last night I got my reward for exercising from Chicago to Boston 1,011 miles. I set up Skype on my computer (video talking) and my 3 boys from MA all got together (not an easy thing for 3 adults to do) and we talked and "hung out" for 1.5 hours. It was so much fun watching them goof around and joke while talking with me. It has been my best reward so far. Even better than getting the Wii and Wii Fit hahaha! I told them that since they all have video cameras and downloaded Skype that we can talk more often separately. I don't get to talk to one of my sons very much because he only has a cell phone and limited minutes. So now I won't have to be rushed and I get to SEE them. I loved the fact that they went out of their way to get together for me. Sometimes I feel so far away even though I know that they are close in my heart!
The only problem with Skype is that other people can contact you. So 10 or so men tried contacting me and some were not very shy if you know what I mean. I felt a little violated and quickly ex'd them out. At least they couldn't see me unless I accepted their call, yikes!