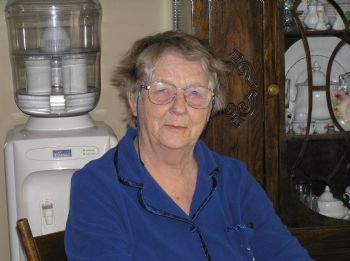 My sister, Eleanor Pirie
I have known that this day would come and even thought I was prepared for it.
After all didn't I purposely fly to NB in January to spend a week with Eleanor.
Didn't I always say I wanted to spend the time with her when she was alive.
Didn't we discuss that I would not be there for the funeral.
Didn't I remember that Randy Alcorn in his book Heaven said that "God uses suffering and impending death to unfasten us from this earth and to set our minds on what lies beyond."
Having prepared and knowing all this: then why was it so hard when I received word on Sunday that it was a matter of days? Why was it so hard on Wednesday when the call came that Eleanor was in the presence of the Lord and her loved ones who have gone on before?
Yesterday why did I feel that I had been rung through a ringer and my eyes burned from tears shed and unshed?
My pastor reminded me that death was not in God's plan; that death is not "normal"; it is a ripping and tearing of the heart.
How true!
As a family we have been very blessed. I am thankful for that special relationship we have as a family unit when many families are torn asunder.
Even though my sister, Eleanor was almost 15 years old when I was born and I can hardly remember her before she was married; I was still blessed with a close relationship with her.
My memories were of the countless days/weeks of staying with Roy and Eleanor as I was growing up. Of Roy and Eleanor at our place nearly every Sunday, especially after Dad died when I was only 9 years old. Of picking potatoes. Of sitting around the dining room table looking through the Sears or Eatons catalogues. Of those delicious chocolate cakes or those sugar cookies. Of making my first batch of donuts for Roy because Eleanor was in the hospital expecting Trish. Of shopping 'across the line'.
Other memories are when Eleanor came to visit us here in BC. Not all are 'favorites' such as our visit to the Wax Museum in Victoria where she had a bad fall. Better memories were when she came for a month to check out this man I was marrying. After meeting Bruce's family, she said "I had met my match - the Reimers were as crazy as the Hudsons". Bruce's comment on meeting Eleanor "I'm marrying into the right family". Or when she came with Lois, Henry & Earnestine for Expo 86. It was then that Eleanor, Marg and I got the nicknames "the JW's" which I will not elaborate on at this time. Of Eleanor sharing her slacks so that Gramma Reimer was able to go for her first motorcycle ride on her 80th birthday. Of visiting with Clara. Of being there when Grampa Reimer passed away. Of her love of Butchart Gardens.
More recently are my visits with my sister and our phone conversations.
It was her desire to leave me something in remembrance of her. In 2003 I finally got my ears pierced - Eleanor bought me my first gold earrings - which I will cherish. But what I requested from her was one of her devotional books. Her faith and love for the Lord is the most precious gift she could ever give me.