2nd Half-Marathon update
Wednesday, September 19, 2007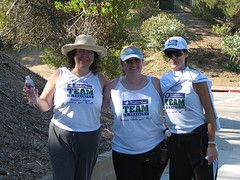 (That's me with the water bottle in my hand. I still need to get a water belt.)
Hello my friends and family,
I just wanted you to know that the training for my 1/2 marathon is going really, really well. On September 8th we ran 10 miles in Porter Ranch and this last Saturday, the LLS team met at Pierce College. We did what is called a Coaches' Workout. There was sprinting and relay racing going on. My left calf is killing me, but I will overcome. Next Saturday, 9/22, we're running 12 miles. We're running 5 miles on Wednesday nights as well and solo training during the week (I need to do more of that solo stuff, to tell you the truth).
I want to say THANK YOU to those of you who have already contributed and because of you, as of today, I have raised $1,165.00 My goal is $2,500.00. I get more and more excited as the event approaches. It's hard to believe that it's only 6 weeks from now. It makes me proud to have so many friends and family members out there supporting me, not only financially, but all of the kind words of encouragement. It has meant so much to me.
I will continue to keep you updated on my progress and let you know how my training is going. I want to keep all of you involved!
Thank you again.....for everything!
Veronica Borboa
Want to donate or help? Simply go to the link below:
Please ask your employer if they offer a gift matching program.
http://www.active.com/donate/tntgla/tntglavborboa