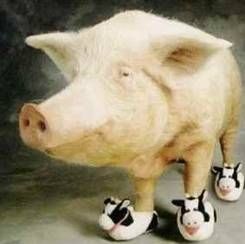 Living in a camper and traveling from one state to another, for construction assignments has been an interesting lifestyle. We've made a lot of great friends along the way, while living in various parks and campgrounds.
A few weeks back, James and I headed out for an extended weekend road trip. Upon our return, we discovered a dilapidated motor home parked in the lot at the north side of us. I scrutinized the set-up…What I found peculiar was the signage placed on the camper…"Caution! Area Under Camera Surveillance!" All the windows were covered so tightly that one could barely discern the glow of an interior light. Hmmmm...How odd. Biker Joe, living 2 houses down, adds to this mystery, saying that the guy moved in right after we'd left, and he had yet to come out in the daytime. Joe said, "I think you might have a vampire or werewolf living next to you!" Great!
For 4 days, I was the snoopy old lady, constantly peeping, in hopes of catching some glimpse of our new neighbor. On Day 3, I caught his door opening! To my dismay, a long rug hung over his doorway, so I only got to see a hand (was that hair on the knuckles?), as it pulled in a leash and bare feet (was that hair on the toes?), protruding under the hanging tapestry—then later, the appearance of his cat on the leash. Drat!! My imagination ran wild? Who was this guy?!! Maybe a drug dealer? A spy for the FBI or CIA? An agent from the IRS? A bubble person, allergic to sunlight? I was somewhat freaking out—I'm not normally the nosy person, but dang, who did this guy think he was, expecting me to respect his privacy???
Things all changed that afternoon, as James and I sat on our deck. Around the corner popped a guy we'd never seen before. With a friendly wave, he came over and introduced himself as our new neighbor, Mike. "Do you guys like chocolate cookies?" he asked, as he extended a bag of the goodies to James. (My hindsight now tells me that this was the first action my new neighbor used in trying to sabotage my diet…) As James nibbled on the cookies, Mike proceeded to give us a life story of being on social security for a back problem—which explained his never having to leave his house for a job. He divulged owning a 54" flat screen TV, and his fear of being burglarized—which explained the signage and the covered windows. He explained suffering from diarrhea for the last week and questioning where the nearest grocery store was, as he needed to get some toilet paper. Being the kind neighbor lady I am, I retrieved a couple spare rolls and handed them to him. As he headed back towards his house, he called out, "You might want to watch those cookies. I'm starting to think that's why I've got the runs!"
A few days later, James came into the house, muttering, "Houston, we have a winner!" I gave him a curious look and he proceeded to tell me that Mike had caught him outside and told a story of his house being infested with white fleas. He'd apparently had to go to the emergency room the night before, as the biting was so bad! Terror-stricken, I croaked out, "How close did he get to you?" It didn't matter how much my dear hubby reassured me that he didn't get within flea-jumping distance to the guy. My body itched feverishly. I knew I didn't have fleas, yet my scalp said otherwise. I had a hard time reading my spark mail, as thoughts of white fleas danced in (and on) my head. I earned a Spark Point for googling white fleas, and came up with nothing! (Perhaps fleas turn white, without the aid of sunlight??) Even after Mike bug bombed his house, I had flea frights. With the bomb going off, would the fleas flee over to my house? For almost a week, I had a hard time concentrating on my Spark comments and articles. (My hindsight now tells me that this was the second action my new neighbor used in trying to sabotage my diet.) And now that you have a bad case of the head itches, read on for the next episode…
It's Halloween and Mike catches me coming back from a walk. "Hey! I've noticed that you go out walking a lot," he comments. "Yup! Just trying to get in shape!" I shouted from a safe distance. An hour later, Mike is at the door with a cup in his hand. "You've got to try this. It's sort of like a detoxifying anti-oxidant!" He proceeds to tell me it's a secret recipe from his sister, consisting of butter—can't be margarine; vinegar—must be cider, not white; rum—most any brand should work, but he prefers Bacardi; lemon juice—from a real lemon, not the imitation stuff; and minced garlic. Aside from holding in a gasp of disgust, I am mentally calculating the calories, and I'm also thinking, Garlic—how ironic—guess that rules out the werewolf theory. "James," I holler, "Mike is here and has something he wants you to try!" (My hindsight now tells me that this was the third action my new neighbor used in trying to sabotage my diet.)
Biker Joe is laughing. He tells the story of throwing away an old Dish Network satellite dish, and Mike asking if he could have it. Turns out Mike's TV has an internal setting for SelecTV Satellite—which I don't have a rat's butt clue about, but whatever. Mike is absolutely certain that Biker Joe's dish will work with his big screen TV. Biker Joe proceeds to tell me that the dish won't work, as it's not compatible with Mike's internal TV settings, but the real kicker is that this guy really believes that since his TV has the hook-ups, all he has to do is make the connections and he'll have instant service. He doesn't understand that regardless of the compatibility question, he would still need to subscribe to the service, in order for it to actually work. Numerous neighbors try to explain this, but Mike won't hear of it. His TV is satellite ready, so all he needs to do is hook one to it and Voila! Mike spends the afternoon positioning the satellite on top of his house. Nightfall comes, and I'm off to bed. Sparks has taught me the importance of getting a good 8 hours of sleep. All of a sudden, I'm awakened by a pounding noise of hammer against pipe. What in tarnations???? Since he got no reception from the top of his house, he's trying a new location. Mike is now at the rear of his house, driving a post into the ground, to mount his satellite! The noise continues for a couple hours, as Mike works with a flashlight in his mouth. Later the next day, I noticed the satellite in the dumpster. (My hindsight now tells me that this was the fourth action my new neighbor used in trying to sabotage my diet.)
Since we do live in a camper, I like to keep my blinds open, to fend off feelings of claustrophobia. I don't see this as an issue, as we currently have no neighbor to our south side and Mike has his windows totally closed off, so there's nobody to really see me. Yeah, right! Lately, during my sessions of Granny Dancing (which is my daily cardio activity—crank the tunes and shake it, baby!), I've noticed that Mike comes out of his house and lurks in the yard. Coincidence? I'm thinking not! All of a sudden, as "She's a Brick House" is blaring and I'm being the groovy granny, boogying to the beat, I lock eyes with Mike and have to nonchalantly nod and pretend to straighten the pillows on the couch. Dang! Lost the beat, and now I'm a prisoner, confined to dancing in the kitchen or hallway, until he disappears from sight! (My hindsight now tells me that this was the fifth action my new neighbor used in trying to sabotage my diet.)
The campground maintenance crew just came over and graded out the empty lot to the south side of us, prepping it for newcomers. Wonder who will be moving in.