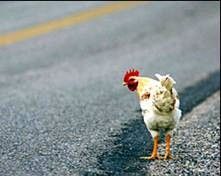 Hubby and I work for an international construction company. We live the life of nomads, moving from project to project, working from the ground up, coordinating the process of building a building, handing the keys over, then moving on to the next assignment. James is the project superintendent, coordinating all the subcontractors on the jobsite. I am the project engineer, claiming the onsite construction trailer as my domain, coordinating all the paperwork and communication that it takes to get the job done. We were recently assigned to the Portland, Oregon Branch Office, with the intention to oversee a Super Target in Sacramento, California—which is due to start mid-March. This past week, we took on the venture of relocating from the Minneapolis area to the West Coast.
The road trip to Portland offered me some breath-taking sites. The drive across the Rockies was indescribable!! As James drove, I scanned the mountains in search of big horn sheep, mountain goats, antelope, black bears, bobcats, buffalo, deer, moose, and elk. I did see some butts high up one rocky crag, but I couldn't discern whether they belonged to deer or big horn sheep. Crossing Idaho, I saw 2 different large animals bedded down amongst the trees. I'm not sure if they were elk or moose, but want to say that they were moose—just because saying, "Moose," makes me giggle! Try it! Say, "Moose!" out loud! What a funny name—can't help but conjure up a mental picture of Bullwinkle, huh?!! We were mesmerized with the multiple sightings of eagles—so beautiful and majestic!!
The drive through Washington was kind of boring and desolate, but as we crossed into Oregon and traveled along the Columbia River, we were awestruck again with the beauty of landscape. It was my turn at the wheel, we were on the interstate—no buildings in sight…Then, there it was! A lone chicken along the side of the road!! What the heck?!! I rubbernecked to double-check that my eyes hadn't deceived me! James and I looked at each other and laughed aloud, realizing that we'd both seen the same thing! Our conversation centered on the chicken…Where did it come from? How did it get there? Where was it going? Had it already crossed the road, or was that its goal? Okay, so I hadn't been able to positively identify any wild animals in their natural element along the road trip…BUT all was not lost!…I had been able to positively identify a domestic animal in its UN-natural element. How many people can claim that??!!
The moral of the story can be interpreted countless ways…
• Don't place all your chickens in one basket, as they might feel overcrowded and leave.
• Set your chicken free—if it's meant to be, he'll come back.
• Which came first? The hitch-hiking chicken, or the egg?
• If Chicken Little is out on the road, assume the sky is falling.
• Even a chicken can play a game of Chicken.
• Even a chicken can be a daredevil.
• Don't let heavy traffic ruffle your feathers.
• The early bird gets to see the country.
• Don't count your chickens until you've checked the interstate for any runaways.
• A chicken crossing the road is poultry in motion.
Which moral will you adopt today?
Here's my take…
• Just because I may be a chicken (introverted tendencies), it doesn't mean that I have to stay within that mindset!
• In the same way that I've shed some excess poundage, I can shed my inhibitions. With the right frame of mind, I can be an eagle!
• Just like that chicken left it's cozy nest, I can leave my safe environment and dare to soar to uncharted territories.
• I can free myself from my introverted ways and be the carefree, fun-loving, adventuresome woman that I so crave to be!
• I can set my inner child free and be the extrovert!
Today is the day I will start living again!!
I double-dog dare you to do the same!!