I think we have a habit!
Wednesday, April 16, 2008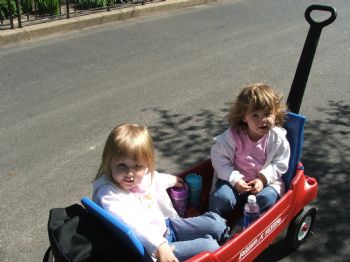 I noticed my youngest had a scratchy throat on Monday night, so I decided to keep her (& her germs) away from the childcare at the gym. We skipped the gym on Tuesday & just kind of relaxed around the house. (Well, she relaxed, I got caught up on housework.) On Wednesday (today), she was still congested, but I thought a little fresh air would do both of us some good, so I tugged her (& older sister) around the zoo in their wagon. Then after DH got home from work & after we ate dinner, I asked him to keep the kids so I could go to the gym for an hour. I've been making progress with the exercise & was okay with skipping one day, but didn't want to get too far off track.
If you had asked me a month ago if exercising was a priority, I would have laughed out loud & told you to hand me the remote control!