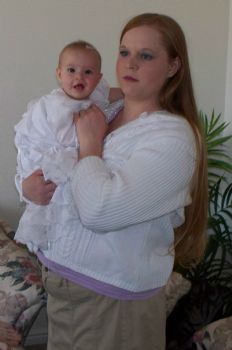 My depression has gotten so bad lately, I just have to "talk" to someone and there's no one really to talk to, so I'm writing it down.
I graduated high school six years ago weighing 50 lbs less than I do today. FIFTY POUNDS! I'm tired of looking in the mirror and seeing the fat girl. Anymore, I find myself avoiding mirrors all together. I hate my body. Other than my daughter, I hate my life. Its worthless and pointless and it totally sucks. I hate that my sisters can share clothes and look cute, knowing that I can't fit into their clothes. I hate that my sisters can just go out and run or workout anytime they want, while I have to check the weather, bundle up the baby, get out the stroller, etc just to go on a walk. I hate that I have asthma and it restricts me from doing a lot of the exercising that I want to do. If I weren't breastfeeding, I would secretly go back to bulimia. But I hate that I HAVE to eat to make milk.
I AM TIRED OF CRYING ALL THE TIME.
So tomorrow I talk to a counselor about my post partum depression. My dr diagnosed me with it back in November, but I never did anything about it because I am not working, therefore, not only do I not have medical insurance to help pay for any treatment, I also don't have the income. But I can't take it anymore!!! It was actually my mom who called for me. She found me a program that is based on your income. I'm really nervous talking to someone, a stranger, about my problems. But I can't do this anymore.
So, wish me luck! I hope this guy can give me the help I need.
And just a clarification: I don't blame my baby for my problems. I love Madison more than anything. Yes, my life is restricted now, but I wouldn't change having her one bit. I love her so much. She is my reason for living anymore and the only thing that can make me smile. I have no regrets.
(The picture I posted was taken of me and Madie on Sunday. I HATE it because I am so huge!!! Maybe I can use it as a motivator someday... right now nothing motivates me. Oh, and I also hate my hair. Its getting chopped Tuesday)