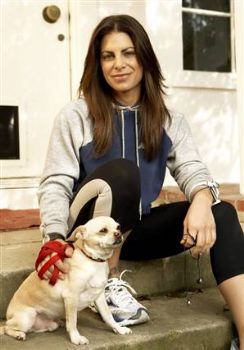 Jillian Michaels (personal trainer)
From Wikipedia, the free encyclopedia
Born Jillian Michaels
February 18, 1974 (1974-02-18) (age 34)
Los Angeles, United States
Jillian Michaels (born 18 February 1974)[1] is a personal trainer, and appeared on the television series The Biggest Loser (USA) as the trainer for the red team until 2006, when she was replaced by Kim Lyons. She returned in 2007 as the black team coach, competing against Kim's red team and Bob's blue team. [2] Kim decided not to return for the spring 2008 season, leaving Jillian as the only female trainer. Along with Bob Harper, Jillian is also a trainer in the Australian version of the show. She began her career in exercise because she was considerably overweight before her teenage years (though not as much as the contestants she whips into shape now). As a young adult, her mother enrolled her in a martial arts class, which was a new beginning for Jillian. Thereafter she was concerned with helping overweight individuals make a change and transform their lives and bodies.
Jillian Michaels has a strong background in martial arts, including training in Muay Thai and Akarui-Do, including experience with the use of nunchaku. She uses a blend of strength training techniques with her clients, including kickboxing, yoga, Pilates, plyometrics, and weight training.[3]
According to her official homepage, "Jillian lives in Los Angeles with her brother, Gregory, and her beloved and faithful Chihuahua, Baxter. When she's not on the TV set, she enjoys traveling and getting involved in charitable activities. She is a celebrity advisor to National Day of Dance for Heart Health, an organization that encourages people to make exercise fun and to laugh, learn and dance to a healthier heart."
Interestingly, so far, in every season she took part in (including Australian's Biggest Loser Season 1), she has always had one of her contestants, either from the red team or the black team, win the competition. In season 4, her black team completely wiped out both Kim's red team and Bob's blue team, which also eliminated them from the competition because they had no other players to represent them as finalists at the finale.
She is the youngest of the three trainers.
Jillian Michaels currently hosts a Sunday talk show on Los Angeles' KFI (640 AM).