Just bought Turbo Jam and The Firm
Tuesday, May 06, 2008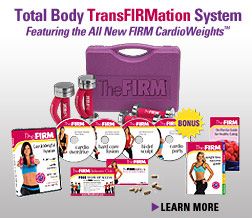 I have 3 kids and I have access to a free gym ( military benefits) but the time it takes to get all three of them ready and off to daycare, I only have 20 minutes to workout and even then I would have to commute to work in my gym clothes( to get to work on time).
So I saw the turbo jam and the firm. i just bought them yesterday, I like variety. Otherwise I will get bored to death.
I just joined the teams on spark so I know I will get major feedback.
It will be so much easier to just get up and turn the tv on.
My kids sleep hard so I am good on the sound level.
I am going to start Medifast by the 25th of this month, hopefully sooner!
I have got to lose a lot of weight before my husband comes home on R&R in October. I want to look sexy for him.I know he will be pleased. I am trying not to let him see me below my face on the web cam so he can be truly surprised!