Wednesday is almost over- 5/14 Thank GOD!
Wednesday, May 14, 2008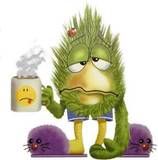 I have felt like crap all day long! My nose is running- my throat is sore, and I can't stop sneezing... But you know what? I still feel great on the inside! I have not strayed from my diet- I am still sticking to it- even though I am under the weather so to speak! LOL I'm still at work- about to head home- and just rethinking my actions from the day- and even though I didn't do any exercise- just the actual work of my job has kept me on my feet all day- and I've put out more energy than I had... LOL But I'm doing okay- and fighting off some cravings for french fries right now- but you know what it wouldn't even be worth it b/c I prob couldn't taste them anyway! So I will go pick up my daughter- and go home to make a healthy dinner for us. I hope everyone elses day was great! I visited a few spark pages for inspiration and I gotta say you guys are awesome! You kick butt! And def inspiration for me to keep going! So thanks to you guys who have kept me going!
Keep believing!
~Audrey