Exercise Disguised as a Paaaaartaaay!
Thursday, May 22, 2008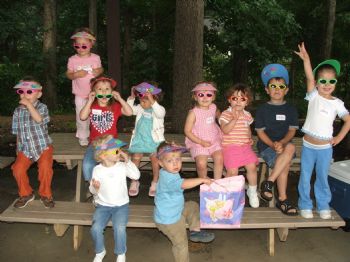 My DD (4y) has been taking a "Kid-Fit" exercise class while I work out in the gym. Two teachers lead the hour-long class twice a week. She's had so much fun with that class that I decided to arrange for a birthday party exercise class. It was a huge hit with everyone. The kiddos had a blast running and jumping and getting the sillies out & the parents got to relax & chat for an hour while the kids were in class. After the class the kiddos enjoyed fruit, raw veggies, and . . . oh yeah, CAKE & ICE CREAM!
This pic is our wild little bunch showing off the sun visor craft that we worked on after refreshments, and the cool shades were our party favors. Birthday girl is in the back row wearing PINK, with a PINK visor, and PINK shades. Her little sister is next to her wearing the stripes.