So back to Normal....
Tuesday, May 27, 2008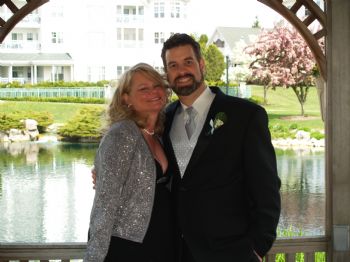 The wedding was very nice and we all had a really good time. My oldest daughter was a bit on the moody side... but she always is so it wasn't anything new there. I just have a feeling that her boyfriend will break up with her for good now because of her tantrums she's good at doing and often. Ugh. I don't think she'll take that very well either if he does. I really worry about her and wish she could seek help medically for it but she works at a job that doesn't offer hardly any hours and she makes not very much as is to live on her own which she's doing and hopefully will continue doing. I think she needs to break up with him first and find a man who can take good care of her where she can get the help she needs but I know that's not going to happen.
Anyhow, the wedding was great! I drank and eat way too much and ended up gaining some pounds for not being good.. but it's behind me now... less stress now.... or back to normal as my title states.... the only problem is normal isn't always a balance either.
My husband left a few minutes ago to take his mom to the air port and so right now it's real quite here... until my youngest daughter Angel gets home with the baby. I hope that girl goes and applies for a job that I think would be a good match for her working at a learning day care that a friend mind teaches at. She needs the money, and with a baby, any insurance she could get would be very helpful too.
I got a big lecture too from my husband this morning... complaining to me for buying the girls a dress for the wedding. That's why I didn't tell him... but he asked so I told him the truth and then I had to hear how I'm enabling them for doing that and that I better not do it anymore or he'll cut me off from the money he gives me. It makes me mad that he talks to me like that but at the same time I understand and he's right I don't need to do that cuz it prevents them from working harder to get what they need if they know they can get it from me. So I'll back off on my giving or enabling as he states. Ugh.
My plans for the day are.... Nothing. I'm going back to bed to get some more shut eye while it's still quite. Because it won't last long I'm sure.... haha. I might go see a movie later. Went and seen the new Indiana Jones movie that came out... it was okay.
Yawn...... back to bed. I'll post again later. I'm adding a picture of my husband and I at the wedding with this entry. We look so much thinner since we both been working on getting those unwanted pounds off. He wants to lose another ten pounds and me I would like to get another 20 to 40 pounds off. Whatever puts me into a size 5 or 7 I'll be good to go. haha.. I'm just a lot slower at taking it off then he is. But it's going to come off.
Later, Ivy