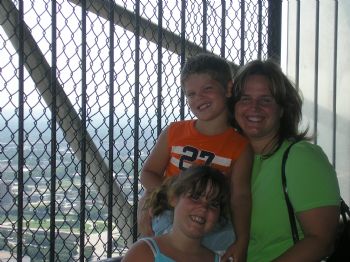 My sister and her daughter have been here for the last 5 weeks and yes, even though we did work out everyday, we didn't eat all that great. Not too bad, but worse than I normally do. I tracked almost nothing over the last several weeks, so it may have been worse - who knows.
I made sure I kept my cardio up 5 days a week at least 35 minutes, which is way less than I normally try to do, but I am glad that I at least didn't slack off on that. I certainly don't want to gain back this hard fought off 10 lbs!
I'm back to my routine, continuing the workouts and eating healthy and tracking everything that I do and everything that I eat.
I am moving in the right direction and getting things on track!
My goal right now is to lose another 10 lbs by the end of August, 10 by end of October and 10 by end of December - but I am hoping to get another 10 in there somewhere so I can hit my goal of 50 by Christmas - but either way I will be very happy!
For the first time in years when asked what I want for Christmas - I want to say CLOTHES, CLOTHES, CLOTHES!!!
Not, "nobody even think about buying me clothes"
I LOVE all the support I get on this site and I hope that I am able to give my share of support back!
I Look forward to all the possibilities!!