I'm getting very frustrated......
Thursday, July 10, 2008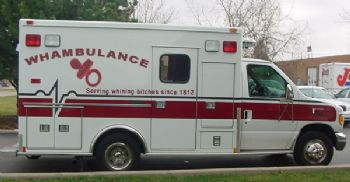 This blog is going to be a bit of a rant.... (thus the whambulance...).
I started using Spark in January of 2007. Since that time I have not been very good about exercising. But I was still having quite a bit of success.... I had lot 30 lbs by just eating within my calorie range. Every time that I would start to exercise I would gain weight, so I'd quit. So then, in March I decided to start exericising, which led to running, which led to me quitting smoking and now I have been working my BUTT off these days, working out 6 days a week, which is AWESOME! I feel great, I am looking much better. BUT.... Since I started working out in March I have GAINED almost 20 lbs!!! How is that freaking possible???
I haven't really been eating any differently, except that I've been consuming a larger portion of my daily calories in the morning (about half). I'm thinking that this may be part of the problem.... I have gone from hardly exercising at all to burning approximately 2500 calories a week.... So I'm thinking that I need to adjust my calorie intake, but how much???? I've updated my SparkPeople profile, and it hasn't changed anything... I think I need to go see a doctor, but I don't have insurance right now.
I am SO FRUSTRATED!!! I have made all these "positive lifestyle changes", yet the results on the scale are making me want to stop. Yet I don't want to stop, because I'm really enjoying the exercise, but I'm NOT enjoying the results on the scale....