Duathlon coming up!!
Tuesday, July 15, 2008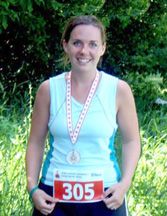 This pic is me after my 2006 Duathlon
Saturday July 19th, I'll be competing in my 2nd Kincardine Women's Triathlon/Duathlon. (I do the duathlon) This consists of a 3k run, 12k bike and 3 k run. (1.9, 7.5 & 1.9 miles) And I'm SO looking forward to it. I completed it in 2006 after I first got back into running and being fit. I was pregnant last summer, so I missed it and I can't wait to see what my results are this time around. Last time I finished in 1:16:39
The time for my first 3k was 20:26
12k bike 34:41
second run 21:33
Since I started back into running this winter, my time has increased nearly every time I run! So I am excited to see what my results will be.
I am setting my goal time to 1:10 but would like to see it and thinks its totally possible for it to be closer to 1:05
My hubby and boys, mom, aunt and a few friends all coming to cheer me on!
I love the feeling as you cross the finish line and they place the medal around your neck (no matter what place you come in) The sense of pride, accomplishment and gratitude is incredible.
I'll be sure to update! Wish me luck!