Tuesday
Tuesday, July 15, 2008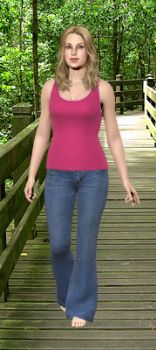 So its a tuesday night and I should enjoy it while I still have it as I am starting school in about a month. Can we say nervous much. I basically feel good just lonely my husband is doing home work. I rarely blog when I feel good because blogging tends to be more of a venting thing for me.
I do feel good tonight though. I'm watching the ridiculous celebrity family feud and I'm ok. I am working on asking my self do I have any problems now in this moment and if the answer is no then to be ok with that and not go searching for one, like what's bad at work ect. ,but to be in the NOW and not worry about what I can't control. To leave work at work and not borrow trouble, to use a few clichés.
So the picture with this blog is where I want to get to. I admittedly am not motivated to lose weight now and you can read my past blogs if you want to here about that, I'm sure I'll do it in the future as well but right now I'm ok.