Burn out!!!
Friday, July 25, 2008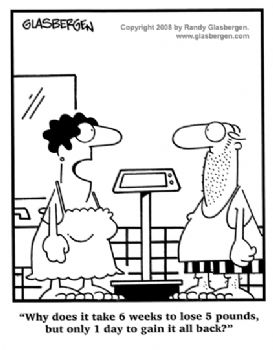 Oh my goodness.
I am soooo burned out on working out! I have sat here and given myself the same advice I give everyone else and I am still sitting here doing nothing. I went from working out 2 hours a day to 35 min a day to 35 min 3 times a week (this week). I know I need to get back on track and I know that I will and if I don't I KNOW I will regret it.
So I am going to pick myself up, get my shoes on and hit the treadmill. NO MORE I say:
No More whining
No More I am so burned out
No More I can't do it another day
No More - I Cant's
Today is the day I get back on track - not tomorrow but today!
I can do it
"If one advances confidently in the direction of his dreams, and endeavors to live the life which he has imagined, he will meet with a success unexpected in common hours."- Henry David Thoreau
Just remember - there is no time for a day off when you're trying to get healthy.
OK, just needed to give myself a pep talk and I feel much better.
Back to work!